UFC On Fuel Ellenberger Vs. Sanchez: Wrestling Observer / Figure 4 Online Predictions & Preview
Wednesday, 15 February 2012 09:43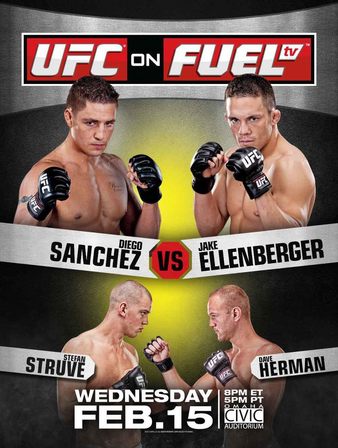 Compiled by Josh Nason
The UFC has a rare Wednesday night card with tonight's UFC On Fuel, the first live event they're airing on the fledgling network. Around 37 million viewers across the U.S. will be able to see the event, meaning a lot of streaming will likely be happening.
Look for an audio preview show featuring yours truly,
Bryan Alvarez
and the Houston Chronicle's
Jeremy Botter
at 5 PM EST today.
Our panel who has some interesting picks as always:
- Dave Meltzer (18-6):
Wrestling Observer founder & writer
- Todd Martin (16-8):
Weekly
FFD guest
& RAW recapper |
LA Times
|
Sherdog
- Mike Sempervive (16-8):
Wrestling Observer Live
|
Big Audio Nightmare


- Oliver Copp (19-5) & Mike Sawyer (17-7)
of
Tough Talk
:
Show
- Josh Nason (14-10):
FFD guest
|
FIGHT! Magazine
|
WGAM MMA Show
|
Bloody Elbow
Bryan sat this one out.
*****

Jake Ellenberger (26-5) vs. Diego Sanchez (23-4)
The man in prime contender position to fight UFC interim 170 pound champion Carlos Condit battles a wildman who has been through a litany of recent outside the cage issues, some of which are heartbreaking to hear. Amidst a five fight win streak, Ellenberger has four T/KO wins while Sanchez has just one career defeat by T/KO (B.J. Penn).
Ellenberger:
Copp, Nason, Meltzer,
Sempervive
, Sawyer, Martin
Stefan Struve (22-5) vs. Dave Herman (21-2)
Struve is still searching for some consistency after a submission win over Pat Barry last October. He's been able to beat the dregs of the heavyweight division but hasn't been able to step up over the upper echelon talent he's faced. He has a tough out in Herman, who won his UFC debut last June but has been on the shelf with issues related to a positive marijuana test that turned out to be false.
Struve:
Meltzer, Sempervive

Herman:
Copp, Sawyer,
Martin
, Nason
Aaron Simpson (11-2) vs. Ronny Markes (12-1)
After back to back losses to Chris Leben and Mark Munoz, the 37-year-old Simpson has won three straight unanimous decisions. He fights the 23-year-old Markes, fresh off a unanimous decision win over Karlos Vemola in his UFC debut, part of a five fight win streak. This will be a good test to see where both guys are in the 185-pound mix.
Simpson:
Copp
, Sawyer

Markes:
Meltzer, Sempervive, Nason, Martin
Stipe Miocic (7-0) vs. Philip De Fries (8-0-0-1)
Somebody's 0 must go…unless there's a draw! Miocic picked up a unanimous decision win in his UFC debut over Joey "Double Tough" Beltran, snapping a streak where he finished six straight opponents. De Fries made his UFC debut in a boring decision win over Rob Broughton, snapping his own streak of submitting every opponent he's beaten. This fight could be really good or really blah.
Miocic:
Copp, Meltzer, Sempervive,
Sawyer
, Nason, Martin
T.J. Dillashaw (4-1) vs. Walel Watson (9-3)
Dillashaw was the victim of a quick stoppage at the hands of John Dodson in the 135-pound TUF 14 finale. Watson dropped a tight split decision to Yves Jabouin at December's UFC 140. Fun fact: 12 of their 13 combined wins have been finishes.
Dillashaw:
Copp, Sempervive, Sawyer, Nason, Martin

Watson:
Meltzer
Follow along with all of the play-by-play here at WrestlingObserver.com with Dave Meltzer around 5 PM EST for the prelims and 8 PM EST for the finals.
Send us a news tip: newstips@wrestlingobserver.com
Note to webmasters/reporters: When recapping news from this site or from our newsletters, please include a link to www.wrestlingobserver.com
For the most in-depth and detailed news and analysis on pro-wrestling and MMA, always turn to Wrestlingobserver.com/Figure Four Weekly Online, the #1 website of its kind on the Internet. Members receive online access to both the Wrestling Observer and Figure Four Weekly newsletters and growing archives, Wrestling Observer Radio with Bryan Alvarez and Dave Meltzer three times per week, the popular Bryan and Vinny Show three times per week, additional radio shows including Figure Four Daily with Alvarez, Mike Coughlin's Five Star Radio, the Dr. Keith Lipinski Show, The Adam and Mike Big Audio Nightmare, Tough Talk and the Karl Stern Wrestling History Show, the infamous BOARD, and more! Members also have full access to the thousands of hours of audio in our radio show archives which date back to 2005. For your convenience, we offer secure online payments using your VISA, Mastercard, American Express, Discover card or PayPal account. Don't miss out on the fun, sign up now! Don't miss out on the fun, sign up now!
Want full access? QUICK AND EASY SIGN-UP, AS LOW AS $9.99 PER MONTH!