Pat Laprade: Who is the greatest wrestler in Montreal history?
Monday, 25 March 2013 10:12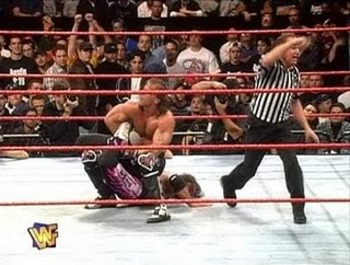 A famous Montreal wrestling moment....

By
Pat Laprade
As a reminder for everyone, here are the results from a recent Observer poll on the greatest wrestler in Montreal history:
- Bret Hart 29.8%
- Edouard Carpentier 18.9%
- Killer Kowalski 8.1%
- Lou Thesz 7.7%
- Yvon Robert 7.2%
- Mad Dog Vachon 6.8%
- Rick Martel 5.7%
- Hulk Hogan 4.5%
- Dino Bravo 3.3%
- Pat Patterson 3.3%
- Johnny Rougeau 3.1%
- Buddy Rogers 1.5%
Who should be on the list to begin with?
I've been quite surprised to see not only the results of the poll, but also who was actually on the list. Let's discuss that first.
First of all, "in Montreal history" means here one of two things. It's either wrestlers who were born in the province of Quebec or wrestlers from outside the province who had a very good career in it. There were 12 names on that list and of those 12, nine made total sense: Johnny Rougeau, Mad Dog Vachon, Yvon Robert, Édouard Carpentier, Rick Martel, Killer Kowalski, Pat Patterson, Dino Bravo and Hulk Hogan.
Rougeau, Vachon, Robert, Martel, Patterson and Bravo could all be names that one would mention for a list of guys actually born here. Carpentier, Kowalski and Hogan are among the most successful outsiders ever.
Based on drawing the most crowds of 10,000 fans and more in Montreal, Kowalski, Hogan and Carpentier are number two, three and four respectively, sandwiched between the number one, Yvon Robert and the number six, Johnny Rougeau, followed by Bravo at number seven.
Vachon and Martel were able to draw in Montreal only for a short period of time as they didn't wrestle here that often, but they were both AWA champions, having a lot of success internationally. Patterson didn't wrestle long enough in Montreal to be a draw in the city, but we all know what kind of worker he was and what he did elsewhere.


Bret winning the poll? Really?
Now, if nine made sense, three must not make sense, right? Well, two can be argued and one just didn't make sense at all.
Although he wrestled in Montreal throughout the 50s, Buddy Rogers had only two very strong years in Montreal, 1951 and 1960. But he was an ok draw in between. He ranks 12 all-time in Montreal. Lou Thesz, although being a great wrestler that everyone in Montreal who lived his era remember, wasn't that much of a draw, unless he was matched with Yvon Robert. He ranks only at number 20.
But the one that made no sense to me is the one that actually won the poll and it's Bret Hart. I don't want to argue Bret as a wrestler. That's not the point. Bret ranks at number 26 all-time in Montreal, but that doesn't say much. He was in the main event for a card topping 10,000 fans four times. With the Hart Foundation, he wrestled the Rougeau Brothers in '87 and adding Honky to the team, he faced Hogan, Savage and Steamboat in '88. It'd be fair to say that the Rougeaus, Hogan and Savage were the draws for those shows.
He drew 12,000 people against his brother Owen in 1995 and of course, you got the Montreal Screw Job two years later. Not a lot of credentials to be considered the best wrestler in Montreal, don't you think? His drawing abilities in Montreal are in the same lines as The Rock, Triple H, Ricky Steamboat and The Undertaker, and I'm sure none of these would be considered as one of the best wrestlers in the history of Montreal.
Bret had perhaps the most important match in the history of Montreal, but that doesn't make him one of the best wrestlers the territory had.
So if we agree that Bret should've not been on the list (let alone winning the poll), what about Rogers and Thesz? I could live with these two on the list, but I strongly believe that there were far better choices.
Bret, Thesz and Rogers out. Who's in then?
Let's go back to the ranking of the best drawing cards in the city for a minute. After Bravo at number seven, you have Jacques Rougeau Jr. at number eight, Jean Ferré (Andre the Giant) at number nine, Abdullah the Butcher at number 10 and Don Leo Jonathan at number 11. And before Thesz at number 20, you have guys like Raymond Rougeau, Randy Savage, Jacques Rougeau Sr and Bobby Managoff.
Others could be considered as well. What about a guy like Jos Leduc, who doesn't rank that well because he always wrestled under another good babyface (Johnny or Carpentier) and who also had a very good career outside of Montreal? And even though WWE tends to erase him from history, Chris Benoit is perhaps the most talented wrestler ever born in Montreal.
If I would have picked the 12 names to put on the list, I would've removed Bret, Thesz and Rogers and replaced them by Rougeau Jr, Abdullah, and Leduc (actually Benoit would be there instead of Leduc, but who am I to start a controversy?!?)
My vote goes to...
Yvon Robert. By a mile. Not even close. When I asked my panel the same question in 2008 for the top 25 Quebec-born wrestlers of all-time that
you can find in the book
, 63% put Robert first. His nearest opponent only had 13%. I agree that if Carpentier, Kowalski or even Benoit (he wasn't included because it was just too soon) would've been included, his percentage would've been less, but I still believe he would've won. 
When I asked Dave Meltzer to vote back then, he declined, saying he couldn't vote because he didn't live and witness the different eras in Montreal and Montreal is a territory for which you need to do that in order to respond correctly. This poll tells me he was right.
And the poll also tells me that more people should read our book,
Mad Dogs, Midgets and Screw Jobs
, to better understand the Montreal territory. A territory where Abdullah the Butcher is more famous than Ric Flair, where Jacques Rougeau Jr. was twice the draw Lou Thesz was and where Bret Hart should never be considered as the all-time great.
Pat Laprade is the co-author of Mad Dogs, Midgets and Screw Jobs: The Untold Story of How Montreal Shaped The World Of Wrestling from ECW Press, available at Amazon.com. Subscribers can listen to his March appearance on Wrestling Observer Radio now.