WO/FFW Twitter Feedback: what is your favorite Royal Rumble match or moment?
Monday, 28 January 2013 14:30

By Josh Nason
Over the weekend
on Twitter,
we asked you what your favorite Royal Rumble moment was. From Flair in '92 to Bobby Heenan's call of that match to Demolition going head to head and Mr. Perfect's final Rumble match, you gave us a lot of different -- but awesome -- answers.
Here's what you had to say about your favorite Royal Rumble moments. Note these were compiled before Sunday's Rumble event.
@hXcFuller:
92 Rumble. What a masterpiece.
@JeremySexton:
My fave is prob Mick Foley's least fave, his 1999 I Quit Match with The Rock.
@CommanderClarke8:
John Cena's 2008 return, Too Cool and Rikishi in 2000, Benoit-Orton throughout 2004
.
@AllPurposeRadio:
Yeah I'll echo the '92 sentiment although sad since I believe close to half the guys have died
.
@Roheblius:
The 92 Royal Rumble still holds up. Flair's performance was tremendous. So many big stars in that match.
@Kconhawks:
Mr. Perfects return in 2002. I thought he could win!
@KTSthegame:
Maven Eliminating 'Taker and Austin winning the Rumble in 98 on my Birthday
@CoversTheSpread:
Ax and Smash Nos. 1 & 2 in 1989
@James13rown:
GIANT GONZALEZ~!
@BinuPaulose:
Flair winning the Rumble in '92 & the WWE title - still the best.
@Olic22:
the Cena return 2008
@JaniBuxton:
The 2002 Rumble has a lot to recommend it in particular Mr Perfect and Goldberg spearing Nunzio out of his boots…Also the finish of 2007 Rumble match with HBK and Taker.
@ElectroMail:
All of 1992, but especially "DAMMIT" "Oh yes! It's Ric Flair! You can kiss it goodbye Brain!"

@Vom_Kriege:
Match is Jericho/Benoit IC Title ladder match in 2001. Moment is Benoit winning in 04. Too bad they dont exist anymore. #DAMMIT
@JohnReport:
Fave Rumble matches are Triple H/Cactus from 2000 & Angle/Benoit from 2003. Different types of matches, but among best ever.
@WrestlingChurch
92 #FairToFlair #JackTunney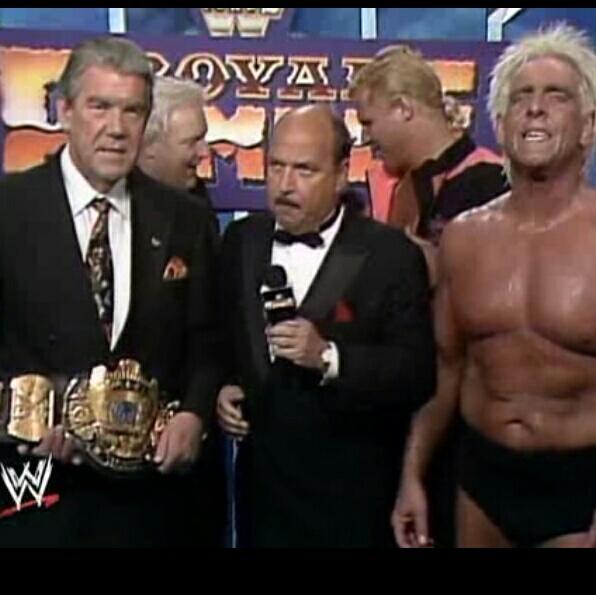 @BurritoBelly:
Ric Flair going wire-to-wire to win it.
@OriginalSpanner:
the stare off between The Rock and Austin near the end of the 2001 Rumble match
@MollyShi5:
Triple H v Cactus Jack streetfight!! Epic match & epic PPV!
@Durganadotcom:
Benoit/Angle in 2003 was epic...only to be followed by Benoit winning the Rumble the year after. Great times for wrestling fans!
@WadeHaugen:
Bobby Heenan's commentary during the 92 rumble and the Hogan-Warrior standoff during 90 rumble
@JayPowers:
one of my favourite moment(s) would have to be Bobby Heenan's commentary on the 1992 rumble match #perfection #WWE
@StiglitzMovies:
Flair in '92. Made all the more memorable due to Heenan's awesome commentary with his pleas to God for Flair to win the thing.
@SevenPin76:
1989…Ax and Smash laying to each other for 2 straight minutes... What an awesome sight!
@Gradderz_78:
HBK reappearing in the 95 Rumble and pushing the British Bulldog out to win it all #WWE
@IamDarsie:
The HBK/HHH Last Man Standing for the World Heavyweight title in 2004.
@StevieBreech:
My favorite Rumble memories are Demolition #1 and #2 and also Hogan vs Warrior meet up!
@TheReallyRealEW:

Maven eliminating Undertaker in 2002, just for the look on Undertaker's face.