UFC 157 aka ROUSEYMANIA: Wrestling Observer Picks & Preview
Saturday, 23 February 2013 17:15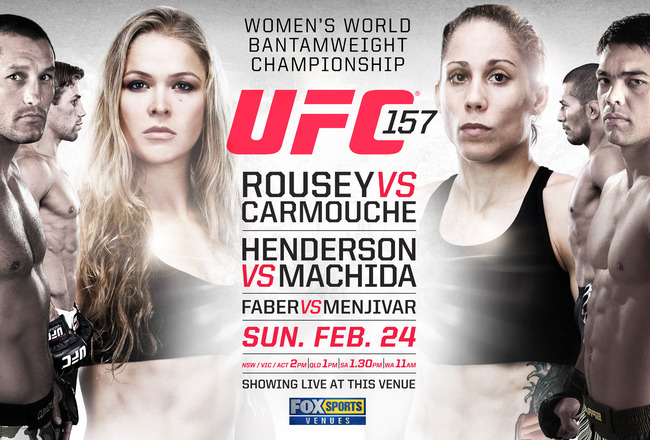 By
Josh Nason
It's
UFC 157
and that means ROUSEYMANIA, brother! Nuff said!
Our panel:
-
Dave Meltzer (8-10):
Wrestling Observer founder & writer
-
Bryan Alvarez
(8-6):
Figure Four Weekly founder and writer
-
Todd Martin (11-7):
Weekly FFD guest |
LA Times
|
Sherdog
-
Mike Sempervive (8-10):
Wrestling Observer Live
|
Big Audio Nightmare
- Mike Sawyer (12-6)
of
Tough Talk
- Josh Nason
(13-5):
Wrestling Observer web editor, social media guy
-
Oliver Copp (9-9)
of "Oliver Knows" fame
135-pound champion Ronda Rousey (6-0) vs. Liz Carmouche (8-2)
As it feels like we've been in Rousey's world for a long, long, time, I don't know what else I can possibly add to this narrative that hasn't already been put out there. At 26, this is Double R's big shot on the main stage. What happens if she wins easy? What happens if she loses? How much will the cadence of the fight play into public opinion? Will the general public tune in and buy? A lot of the answers we want will begin to take shape tonight.
Rousey:
Nason, Sawyer, Martin, Copp, Alvarez, Sempervive, Meltzer
Dan Henderson (29-8) vs. Lyoto Machida (18-3)
Talk about a semi-main event that is flying under the radar. Two of the most notable 205ers of the last 5 years are getting no love in the shadow of Rouseymania. The 42-year-old Henderson has been on the shelf since his 2011 Fight Of The Year with "Shogun" Rua, battling knee injuries that knocked him out of a fall 2012 title shot against Jon Jones. Hendo has won four straight, dating back to a first round KO of 'Babalu' Sobral in December 2010.
The 34-year-old Machida is looking for a return date with Jones and is coming off a second round KO of Ryan Bader at the August 2012 Fox show. However, 'The Dragon' hasn't been that great the past two years, losing a rematch with Rua, a decision to 'Rampage' Jackson and a second round submission loss to Jones just over a year ago. His lone win? Sending Randy Couture into retirement. Will Saturday be the kickoff to another long streak of wins or another nod toward being just a .500 fighter?
Henderson:
Sawyer
Machida:
Nason, Martin, Copp, Alvarez, Sempervive, Meltzer
If Machida wins, does that mean Sawyer should
lick our shoes?

Urijah Faber (26-6) vs. Ivan Menjivar (25-9)

Similar to Machida, Faber is also looking for some consistency and where he stands not just in his division but in the UFC. The 33-year-old's only losses through recent years have been in title fights and against lesser competition, he has no issue. it's the step ups in talent (Dom Cruz, Renan Barao) that have seen Faber on the bad side of the ledger. In the 30-year-old, Menjivar, he'll face a finisher (19 in 25 career wins) and a man who has four wins in five UFC bouts. He was last seen submitting Azamat Gashimov in the first round of a November fight.
Faber:
Nason, Sawyer, Martin, Alvarez, Sempervive, Meltzer
Menjivar:
Copp
Court McGee (13-3) vs. Josh Neer (33-12-1)
TUF 11 winner McGee drops to 170 pounds in search of snapping a two-fight losing streak. Last seen dropping a decision to Nick Ring in July, McGee has gone the distance in his last three fights for the first time in his career. He won't have an easy welcome into his new weight class with the veteran Neer, also a loser in his last two fights. After a six-fight win streak helped revive his career, Neer has been knocked out in the first round by Mike Pyle and submitted in the first round by Justin Edwards.
McGee:
Nason, Martin, Copp, Alvarez, Sempervive, Melzer
Neer:
Sawyer
Josh Koscheck (17-6) vs. Robbie Lawler (19-9-0-1)
In another fly-under-the-radar fight of interesting names, Koscheck looks to rebound from a May 2012 split decision loss to Johny Hendricks and re-establish himself at 35 years old. The 30-year-old Lawler returns to the UFC for the first time since October 2004 when losses to Nick Diaz and Evan Tanner marked his exit. A loss could see him back out again as he's lost three of his last four. Koscheck has been finished by KO only once in his career -- a February 2009 first round KO by Paulo Thiago.
Koscheck:
Nason, Sawyer, Martin, Copp, Alvarez, Sempervive, Meltzer
Get all the live action play-by-play by our own Dave Meltzer
right now!