UFC TUF Nations TV Report: Skip the show, not this review
Friday, 28 March 2014 13:30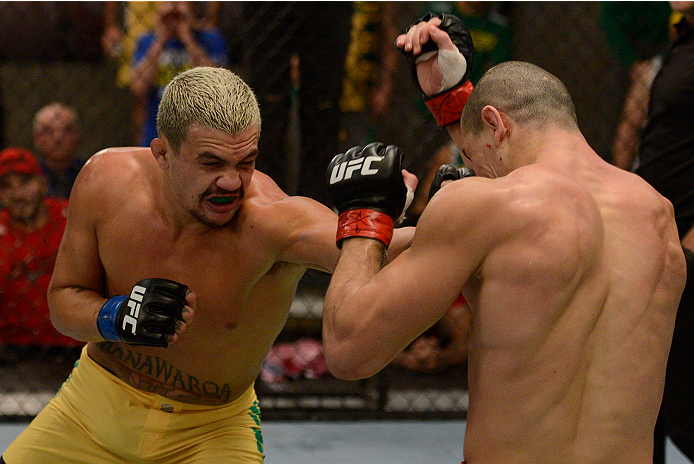 Follow this author on Twitter.
Here we go! Time for the most academic fight of the year.

Kajan Johnson's friends and teammates are concerned on the van ride back to the house. In the Aussie van Vik Grujic feels like Johnson was at an unfair advantage, and Brendan O'Reilly says their silence after the fight spoke volumes. At the house Laprise is pissed because he not only beat a teammate but one of his main training partners at the Tristar Gym.

Johnson makes his way back to the house and everybody on both teams gives him a hug. Zein Saliba says hearing his jaw break was stomach turning. Laprise is overwhelmed by emotion as Johnson tries to talk but his jaw is wired shit. "I would have done the same (shit) to you bro, don't worry about that. I wouldn't expect anything lese. If you tried less I would have been insulted. Don't worry about it."

Tyler Manawaroa is training for his fight. Kyle Noke says it's his fight to lose. Coach Israel Martinez says he's mentally and physically great for the Elias Theodorou fight, but he doesn't like his nose ring. Manawaroa shows off his wide variety of tattoos. He says his game plan is no game plan - he's just going to get in the cage and crack his foe.

While Manawaroa is eating junk food at the house, Theodorou is making protein shakes. He talks about how serious he is as a fighter and how UFC is always where he was meant to be, and how he's going to set a cardio pace that Manawaroa can't match. Former UFC middleweight champion Murilo Bustamante shows up at the camp to give him some extra coaching.

MANAWAROA IS 186 and THEODOROU IS 185 at weigh-ins. Theodorou pulls out a mask and puts it on his head and says THIS IS SPARTA. Kyle Noke is quick to point out that in the movie Leonidas dies.

* Middleweight: Tyler Manawaroa (Australia) vs. Elias Theodorou (Canada)

Both men are undefeated going into the fight - Theodorou is 8-0, Manawaroa 10-0. Theodorou is taller by three inches at 6 feet, Manawaroa has a two inch reach advantage at 77". Yves Lavigne is the ref. We quickly wind up with both men clinches against the fence. Theodorou gets a takedown at 1:02 but can't keep him down. Another at 1:58 - same outcome. Another at2:25. Same. Manawaroa briefly gets on top at 3:20, tries to take the back, but can't maintain it. Another Theodorou takedown at 4:24, and at 4:54. By sheer volume of takedowns he won R1.

45 seconds of R2, same story, same inability to keep Manawaroa down. 1:22. 1:27. 1:43. He gets him off his feet and Manawaroa's right back up. They break and reset at 2:10. Theodorou's corner is screaming that Manawaroa's tired. Manawaroa has a takedown for a split second at 3:37. Theodorou gets a better one at 4:05 and he's finally on top in guard. He stays there until the round ends.

Manawaroa comes out aggressive for R3, probably feeling he's down 2 rounds. Theodorou is on top in guard again at 1:06. He takes side, takes the back over the top, and Manawaroa stands back up at 2:50. Theodorou gets another takedown at4:24 and that should seal the deal. Manawaroa was screwed win OR lose, but it's better for the UFC that Theodorou beat him all 3 rounds - even if it lacked excitement and the potential of a big finish. Even Noke admits it was "kind of a boring fight." ELIAS ADVANCES VIA UNANIMOUS DECISION. Sheldon Westcott predicts after his fight with Vik Grujic he'll face Elias in the finals. Manawaroa goes for a lonely walk in the cold to soak in his defeat. Next week is a coach's challenge with lumberjack games, and Rich Walsh faces Olivier Aubin-Mercier.

STEVIE'S NOTES: I have to be completely honest - other than the recap show in week 9 this was the most skippable episode of the entire season to date. Time to put it in the DVR recycling bin and move on.