UFC/TUF 19 Penn vs. Edgar ep. 5 Recap: The 'Rassler Fights The Man From Kentucky
Saturday, 17 May 2014 07:00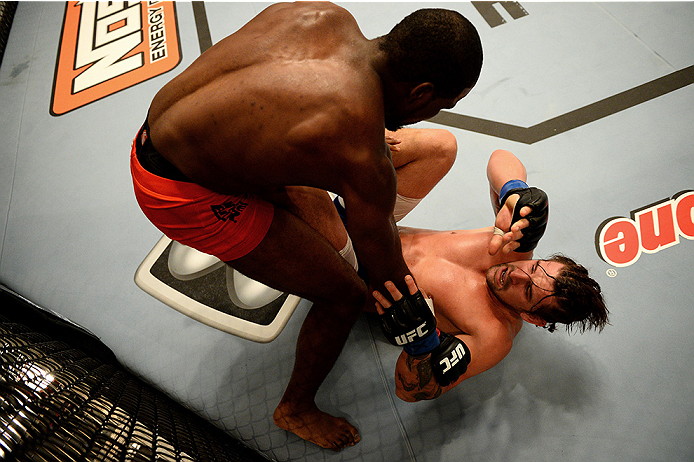 By Josh Nason, Wrestling Observer
In honesty, next week's episode of The Ultimate Fighter is the one to look forward to. Keep reading though, ok?

Segment 1 --
Josh Clark (Team Penn) has had six knockouts in nine fights and Corey Anderson (Team Edgar) has 'hurt people pretty bad' in four pro fights. Both guys have Southern accents and are good ol' country boys. They fight later on.
Following Tim Williams' loss last week, Penn talks conditioning on the team and how guys are training too much between home and in the gym. Penn giving a talk on conditioning is pretty funny all things considered. The guys attempt to relax at home and carve up some pumpkins for Halloween. A few of the guys dress up in costumes. Edgar comes over dressed up as a Teenage Mutant Ninja Turtle with his kids to get some candy.
Had Penn ran in and stole the kids' candy, that would have been great.
Segment 2 --
Edgar takes the guys to Mount Charleston for a Sunday hike. As they get halfway up, the guys are tired and have some in-fighting as they decide whether to keep going. It was supposed to be an off-day, but it was definitely a workout.
Clark is from Kentucky, works 10 hours a day, and misses his wife. He started MMA by winning a six-month membership to a gym and began training. He needs some work on the ground, and Penn thinks it's just his confidence. We get a ton of training footage of Clark going through sharkbait drills. The mental blocks seem likely to play out in the fight.
Segment 3 -- 
Roger from Team Penn was having a conversation with Team Edgar guys talking how wrestling is simple. Anderson takes it as disrespectful given his extensive background on the mats, even having Ben Askren as a coach during his senior season. He's got seven months experience and trains with the Duke Roufus team. 
Segment 4 --
Both guys make 205 easily. Both teams talk about why they think their guy will win. With Team Penn, they say Anderson is just a wrestler. With Team Edgar, they say people don't know how good Anderson's stand-up is. Both guys are ready, and Clark predicts a long, nasty fight.
Segment 5 -- Corey Anderson (Team Edgar) vs. Josh Clark (Team Penn) | Light Heavyweight
Anderson is listed at 3-0 and Clark is at 5-1, so the numbers they were throwing out at the beginning of the show must have included amateur fights. Anderson is an inch shorter, but has a five inch reach advantage. We're starting with roughly 20 minutes to go, so this is going two rounds easily.
R1 -- Anderson had a good first round, taking Clark down at times and controlling in the clinch. He looks physically stronger than Clark, but Clark does show some fight off his back going for submission attempts. Clark is gassing out a bit, while Anderson isn't even breathing hard. As Anderson gets an easy single leg takedown to end the round, he secures it 10-9.
Segment 6 --
R2 -- As Anderson gets another takedown, you can hear Dana White say, "He's got no takedown defense at all." Very true. Halfway through the round, Clark gets a merciful standup but finds himself on the mat within seconds. There's not much to add here. Anderson 10-9. Easy win. One of the judges had it one round a piece, but the other two judges got it right. Anderson moves on, while Clark just didn't have what it takes.
Next fight: Ian Stevens (Edgar) vs. Roger Zapota (Penn). Ian was Edgar's first pick, but Roger was the last pick of everyone. 
Next week: Apparently, there's a controversial decision, a near riot, White flips out about Steve Mazzagatti, and more. Looks like the best episode of TUF in years.
Send us a news tip: newstips@wrestlingobserver.com
Note to webmasters/reporters: When recapping news from this site or from our newsletters, please include a link to www.wrestlingobserver.com
For the most in-depth and detailed news and analysis on pro-wrestling and MMA, always turn to Wrestlingobserver.com/Figure Four Weekly Online, the #1 website of its kind on the Internet. Members receive online access to both the Wrestling Observer and Figure Four Weekly newsletters and growing archives, Wrestling Observer Radio with Bryan Alvarez and Dave Meltzer three times per week, the popular Bryan and Vinny Show three times per week, additional radio shows including Figure Four Daily with Alvarez, Mike Coughlin's Five Star Radio, the Dr. Keith Lipinski Show, The Adam and Mike Big Audio Nightmare, Tough Talk and the Karl Stern Wrestling History Show, the infamous BOARD, and more! Members also have full access to the thousands of hours of audio in our radio show archives which date back to 2005. For your convenience, we offer secure online payments using your VISA, Mastercard, American Express, Discover card or PayPal account. Don't miss out on the fun, sign up now! Don't miss out on the fun, sign up now!
Want full access? QUICK AND EASY SIGN-UP, AS LOW AS $9.99 PER MONTH!