Daily Update: Raw ratings, Ambrose talks to Austin, Young Bucks action figures
By F4W Staff | @WONF4W | Aug 9, 2016 2:07 pm
Raw Ratings Death
Monday night's Raw had the show's lowest viewership total, other than the July 4th show last month, since the Monday Night War. The average viewership for the three-plus hour broadcast was just 2,904,000 viewers. That's down 12% from last week, and down 25% from the same week last year. For more analysis from Dave Meltzer, click here.
The Olympics on NBC and it's various cable affiliates appear to be the biggest reason for the decline, as the broadcast averaged almost 29 million viewers on the NBC main network alone, as well as airing on cable properties NBC Sports Network, CNBC, and MSNBC.
Raw was actually #1 on cable for the night and #2 in the 18-49 demo behind Love and Hip Hop Atlanta.
Viewership by hour was:
Hr 1 - 2,950,000
Hr 2 - 2,974,000
Hr 3 - 2,809,000
The lack of an advertised main event match was also likely a contributing factor as they advertised an appearance by SmackDown General Manager Daniel Bryan throughout the show but the actual main event match, which happened after Bryan's appearance, was a U.S. title match between Rusev and Cesaro.
Here are the last 10 weeks of RAW ratings, along with numbers from previous years.
---
THE ROUND-UP
---
SCHEDULE, REPORTS & POLLS
Tuesday has Smackdown in Bakersfield. Neither John Cena nor A.J. Styles are scheduled for this show because they leaving Monday night after Raw for a house show in Auckland, New Zealand, starting a four-show Australia & New Zealand tour. Rhyno vs. Heath Slater is scheduled for this show.
G-1 CLIMAX AT 5:30 A.M. EASTERN TIME ON WEDNESDAY FROM THE YAMAGATA SPORTS CENTER
Ryusuke Taguchi vs. David Finlay
Satoshi Kojima & Manabu Nakanishi & Juice Robinson vs. Bad Luck Fale & Tama Tonga & Yujiro Takahashi
Hiroyoshi Tenzan & Captain New Japan vs. Bushi & Seiya Sanada
Hiroshi Tanahashi & Togi Makabe & Kushida & Jushin Liger & Tiger Mask vs. Kazuchika Okada & Tomohiro Ishii & Hirooki Goto & Gedo & Naomichi Marufuji
Katsuhiko Nakajima vs. Kenny Omega
Toru Yano vs. Evil
Yoshi-Hashi vs. Tetsuya Naito
Katsuyori Shibata vs. Yuji Nagata
Tomoaki Honma vs. Michael Elgin
---
Figure Four Weekly: Figure Four Weekly 8/3/2016: Latest developments in wrestling related lawsuits - If it wasn't clear before that the Hulk Hogan vs. Gawker lawsuit is a whole lot bigger than Hulk Hogan or even Gawker, the events of the last few weeks have made it more obvious than ever before. Of course, the revelation two months ago that billionaire Peter Thiel had been funding Hogan's lawsuit (and others against Gawker) was a game changer, but the effects of Thiel's influence weren't as obvious... Subscribers click here to continue reading.
F4W YouTube Page: Tons of clips and full free audio shows that you can tell your friends about, and much more to come! Make sure you subscribe today!  
---
Wrestling Observer Newsletter: August 8, 2016 Wrestling Observer Newsletter: WWE financial report, MMA rules change, UFC 201 - There really wasn't a lot of big news coming out of the second quarter WWE conference call.
Even though the idea of barely making a profit in the quarter of WrestleMania would have been disastrous most years, this year it was stated well in advance that due to the time frame of programming costs, this quarter would probably break even.
WWE pushed that it was the most revenue ever generated in a quarter, but with the fallout of WrestleMania and the new free subscribers from the prior quarter, that was inevitable. Some of them stayed with the service, some may have forgotten to cancel the service, and there are also the contractual increases in television revenue. Plus there was the Mania event revenue... Subscribers click here to continue reading.
---
Order the print Wrestling Observer right now and get it delivered via mail, by sending your name, address, Visa or Master Card number and an expiration date to Dave Meltzer, or by using Paypal directing funds to Dave@WrestlingObserver.com. 
 
Rates for the United States are $13 for 4 issues, $32 for 12, $61 for 24, $101 for 40 and $131 for 52. In Canada and Mexico, rates are $14.50 for 4, $35 for 12, $67 for 24, $111 for 40 and $144 or 52. In Europe, you can get the fastest delivery and best rates by sending to moonsault@mediaplusint.com. For the rest of the world, rates are $16.50 for 4, $44 for 12, $85 for 24, $141 for 40 issues and $183 for 52. If you order by mail with a check, cash or money order (P.O. Box 1228, Campbell, CA 95009-1228), you can get $1 off in every price range.)
If you are a new subscriber ordering 24 or more issues, you can choose one free classic issue, or two free classic issues with a 40-issue subscription.
Wrestling Observer Newsletter BACK ISSUE: July 5, 1999 Wrestling Observer Newsletter: WWF King of the Ring review, NJPW names new president, more  - In its first PPV show since the ill-fated Over the Edge and the bevy of lawsuits filed since that time, there was some noticeable changes in the World Wrestling Federation for King of the Ring... Subscribers click here to continue reading.
---
TUESDAY NEWS UPDATE
Dean Ambrose talked about his relationship with Vince McMahon on the Stone Cold Podcast last night. He also talked about working with Lesnar at WrestleMania 32 and said, "...Brock didn't want to do anything if you want me to be perfectly honest." More on that story here. 
The second round of roster announcements were revealed for WWE 2K17 today, with The Rock, Daniel Bryan, Finn Balor, Triple H, and others joining the roster.
Ring of Honor announced a "Champions versus All Stars" show for October 15th in Dearborn, MI.
Figures Toy Company released a photo of the first ever action figures for The Young Bucks. The figures for Nick and Matt Jackson are part of the Rising Stars of Wrestling series set for a release date sometime this fall. Future releases include AJ Styles and Doc Gallows, both of whom committed to deals before signing with WWE. Kenny Omega, Joey Ryan, and Brian Myers are among others also getting action figures in the future.
WORLD WRESTLING ENTERTAINMENT
Guest hosting on The Tomorrow Show, Lilian Garcia opened up publicly for the first time since leaving WWE.
Raw will return to the Staples Center in Los Angeles, CA on October 3rd. Tickets go on sale August 19th.
This school principal is a big fan of John Cena's and uses him as a role model for his students.
Newsweek takes a look at Pat Patterson and his new autobiography.  
PROFESSIONAL WRESTLING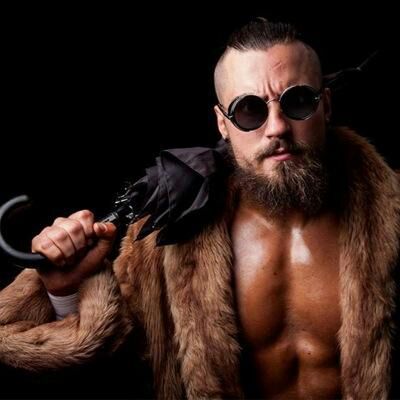 PROGRESS Wrestling announced that Marty Scurll will defend his championship against Mark Andrews on August 28th at The Electric Ballroom in London.
Indie wrestlers get kids ready for school in this article.
An upcoming indie show in a Chicago suburb got some local press.
SEMINAR: November 10; WPWC in association with SHIMMER Women Athletes presents the debut concept "RISE – Developing Tomorrow's Women Athletes." Both parts of the day will occur at the world famous Berwyn Eagles Club, located at 6309 W. 26th St., Berwyn, IL 60402. Part One: World Class Development Seminar: Our instructors for "RISE 1 – IGNITE" are COLT CABANA and SARAYA KNIGHT!!! Report time to the Eagles Club is 12 PM with the seminar beginning at 1 PM. Registration fee is $50. Email for more information or visit the Shop. Part Two: RISE 1 – IGNITE Live Event: A live event will be produced featuring the top 10-12 participants from the seminar. Bell time for the live event is 8 PM.
UFC / MMA
Tyron Woodley may be getting a role in the new Spider-man movie. (thanks to Trey Hudson)
Saturday night's UFC show from Salt Lake did 863,000 viewers on FS 1 for the main card and 662,000 for the prelims. Both numbers are down from the prime time average but way up from the last Fight Night show from South Dakota, which set a record low.
Sabah Homasi, a cast member of TUF season 21 who just fought this past weekend for Titan FC, will make his official UFC debut against Tim Means at UFC 202 in a welterweight bout. He replaces Sean Strickland, who pulled out due to injury
Chinzo Machida, the older brother of former UFC light heavyweight champion Lyoto, will make his Bellator debut at Bellator 160 in Anaheim later this month. His fight will air on the prelims, which also include the pro debut of Baby Kimbo (Kevin Ferguson Jr.) and a top featherweight contenders bout between Georgi Karakhanyan and Bubba Jenkins.
Ben Saunders, who went 3-1 in his most recent UFC stint, went on the UG forum yesterday to explain why he is no longer on the UFC roster. He was not cut; rather he let his contract expire. He was in consideration as an injury replacement for UFC 202 but the USADA says that he would need to undergo 4 months of drug testing before being allowed back on the roster. Instead, he will face a fellow former UFC fighter, Jacob Volkman, at a regional show in Minnesota for his next fight.
VARIETY
Seth Rollins was the latest guest on the Pro Wrestling Illustrated Podcast. The episode features exclusive excerpts from Rollins' "Hot Seat" interview with Al Castle, most of which is featured in the October issue of PWI.
Matt Striker was on the Neckbreaker podcast this week. You can stream/download the episode.
WWE Cruiserweight Classic competitor Ariya Daivari was the latest guest on the Pancakes and Powerslams Show, giving his thoughts on whether he will be a part of the Raw cruiserweight division.
Border City Wrestling will be conducting a professional wrestling seminar on August 20 befor the BCW Heatwave show, with one of the greatest minds in the history of the wrestling business, Uncle Zeb Colter himself, Dutch Mantell! The seminar will start at Noon. The cost is $60.
Check out NECW TV Online 2: Belmont vs. Davienne in a #1 Contender's Match With the Winner Facing Nikki Valentine for the Triple W Title, just days before NECW presents the 2016 IRON MAIDEN Championship.
RESULTS: Paragon Pro Wrestling on the Fight Network, Aug. 7: The Keepers of the Faith, Gabriel and Dom Vnelli defeated the Hippies, Lemon Drop and Fruit Drop, Alex Chamberlain retained the PPW Championship defeating Jake Austin Young, Jesse Sorenson and Wes Brisco defeated The Thugs, Drew Donovan and Vampire Warrior went to a short curfew draw.
RESULTS: Barrie Wrestling, ON THE VERGE!! Saturday August 6, 49 Ferris Lane, Barrie, Ontario, Canada - Playboy John Atlas beat Lionel Knight to become the number one contender to the BW heavyweight title, Travis LePage defeated Nick Wildley and the D Man in a triple threat match, RJ City defeated Freddie Mercurio (Lucha Freddie), The Dirty Vets defeated Big Ben Ortmanns and Erik Donnelly, Justin Sane beat Nick Watts to retain the Three Pistols title, Rex Atkins and Patsy Blue defeated Beautiful Beaa and Reckless Ryan Swift
RESULTS: Pure Wrestling Association: Quick Results from Campbell River's Salmon Festival, Campbell River, BC, Aug. 6. Krofton defeated Matt XStatic to remain BC Champion, El Haviko defeated Christian Kingdon in A Pro Wrestling Academy Showcase, Cremator Von Slasher defeated Barry Good, E.O. Mike Becherer defeated Lak Siddartha to remain PWA Pure Wrestling Champion and VIPW Vancouver Island Champion, Scott Steel defeated Nolan James to remain Pure Violence Champion, Bambi Hall defeated Riea Von Slasher, Nolan James won the Salmon Festival Battle Royal
RESULTS: WXWC4 2016.08.06, Mountainville Memorial Hall, Allentown, PA; Sam Adams & Gee Vader def The New Settlers, Solo Marcellus Prime def Mustafa Aziz Daniels, "Black Starr" Jai Kole def Chris Rex, Luke Mason def "The Icon" B.J. Walker, Mike Valentino def British Wolf in a "Loser Leaves Town" match. (thanks to Shin-Blade)
SUMMER SLAM EVENTS CALENDAR:
AUGUST
12 - Big West Wrestling: Bowl-A-Rama II; Lake City Bowling & Billiards, Kelowna, BC Bowl with the wrestlers at 5:30pm. Watch them battle each other at 7:30pm!
12 - Revolution Pro; London, York Hall in Bethnal Green. Featuring Zack Sabre Jr. vs. Jeff Cobb
13 - Combat Zone Wrestling: TV Taping; Tremont-Gacy, Strickland-Avalon. A free TV Taping at 2 pm and "The Boss is Back" on iPPV at 8 pm LIVE from the Flyers Skate Zone, 601 Laurel Oak RD in Voorhees, NJ! Tickets for iPPV.
13 - Elite Canadian Championship Wrestling: Civil War; Russian Community Centre, 2114 W 4th Ave, Vancouver, BC
13 - Viva La Lucha; San Diego, CA, Montgomery High School. Fundraiser event in the 619 featuring Rey Mysterio, John Morrison, TJP, Nicho/Psychosis, Teddy Hart, Willie Mack, Vermin, Los Luchas and more.
13 - World Women's Wrestling: 2016 Iron Maiden Championship; The American Civic Center, Wakefield, MA. Tickets.
13 - wXw NOW: The End; Tommy End's final show in Germany
13 - NWA Mid South Wrestling; Dyresburg, TN at the Herb Welch Wrestle-Plex headlined by Matt Riviera vs. Jeremy Moore
19 - ROH: DEATH BEFORE DISHONOR XIV PPV; 6:00pm PDT, Sam's Town Live, 5111 Boulder Highway - Las Vegas, NV 89122. Tickets. ROH WORLD CHAMPIONSHIP: ADAM COLE vs JAY LETHAL (c)
19 - AAW; 115 Bourbon Street, 3359 w 115th Street Merrionette Park, IL, 8:00pm Bell Time, tickets. Trailer for our last show: United We Stand.
19 - We Watch Wrestling: LIVE podcast recording; Copper Still 4485 Beverly Blvd, Los Angeles, CA 90004
19 - Superkick'd Pro Wrestling Rock Show: Blazed; The Great Hall, 1087 Queen Street West, Toronto, Ontario M6J 1H3
19 - House of Glory Wrestling; Jamaica, NY, The Hardys, Drew Galloway, Ethan Carter III and Mickie James will appear.
19 - Pure Wrestling Association: VIEX, Nanaimo, British Columbia
20 - Border City Wrestling: Heatwave; Royal Canadian Legion Col. Paul Poisson Branch 261, 12326 Lanoue Street, Tecumseh, Ontario N8N 1N3. Our regular ticket outlets (P-Jays Variety, Helou's Sports Cards, & Silver Tee Golf)  - Border City Wrestling will be conducting a professional wrestling seminar before the BCW Heatwave show, with one of the greatest minds in the history of the wrestling business, Uncle Zeb Colter himself, Dutch Mantell! The seminar will start at Noon. The cost is $60.
20 - Pure Wrestling Association: VIEX, Nanaimo, British Columbia
20 - Pure Wrestling Association: Carrotfest, Bradford, Ontario
20 - ROH: National TV Taping; 6:00pm PDT, Sam's Town Live, 5111 Boulder Highway, Las Vegas, NV 89122. Tickets. ROH World TV Championship: Shibata will face the winner of the 8/19 Mark Briscoe vs Bobby Fish match
20 - Fighting Back 6: Wrestling with Cancer; Vanier Columbus Club, 260 McArthur Ave, Ottawa, Ontario, Canada
20 - Reality of Wrestling: Summer of Champions 3; Featuring Kurt Angle, from the World Gym Arena in Texas City, TX. The event is preceded by a VIP Meet and Greet session to feature WWE Hall of Famer Booker T, Kurt Angle and Queen Sharmell. Tickets. Proceeds will be going to the Booker T Fights For Kids Foundation.
20 - Best In The West; Fresno, CA, VFW Hall #8900, located at 3585 N Blythe, Featuring Jeff Cobb, Joey Ryan, and Mustufa Saed.
20 - NXT: Takeover at the Barclays Center in Brooklyn, NY. Samoa Joe vs Shinsuke Nakamura; Asuka vs Bailey; Revival vs Ciampa and Gargano
20 - UFC 202 - DIAZ vs. MCGREGOR 2, from Las Vegas, NV
21 - WWE: SUMMERSLAM; The Barclays Center in Brooklyn, New York. It will be the twenty-ninth event under the SummerSlam chronology and the second consecutive SummerSlam to be hosted in the Barclays Center.
21 - Pure Wrestling Association: VIEX, Nanaimo, British Columbia
21 - NWX: Live Pro Wrestling at the CWF Wrestling School on 20 Hartzel Rd in St Catharines
21 - Smash Wrestling: Super Showdown IV; Pickering, Ontario featuring Chavo Guerrero Jr. (FKA Lieutenant Loco)
21 - Octagon & Tinieblas Jr. vs. Fuerza Guerrera & Pirata Morgan headlines in Houston at the Arena Theater.  
26 - We Watch Wrestling: LIVE podcast recording; The Wythe Hotel 80 Wythe Ave, Brooklyn, NY 11249. Tickets.
26 - All Star Wrestling; Cloverdale, BC at the Cloverdale Fairgrounds Alice McKay Building, it's the semifinals and finals of the All Star Wrestling Tag Team Tournament.
26 - Absolute Intense Wrestling; Our Lady of Mt. Carmel, 1355 W. 70th St. Cleveland, OH
26 - Conflict Wrestling: Black or White
26 - Bellator 160; The Pond in Anaheim, live on Spike TV, Benson Henderson vs Patricio Pitbull Freire
27 - ROH: Field of Honor; Brooklyn, NY, MCU Park, ROH World Championship 4 Corner Survival: ROH World Champion: Jay Lethal vs. Adam Cole vs. Tetsuya naito vs. Hiroshi. Tickets.
27 - Battlearts: Summer Heat; 4880 Tomken Road, Mississauga, Ontario L4W 1J8
27 - LuchaTO at the Benelife Wellness Centre, 68 Tycos Drive, Toronto, Ontario, M6B 1V9
27 - UFC FIGHT NIGHT: Maia vs. Condit; Vancouver, BC.
28 - Steel City Pro Wrestling: End Game; 222 Queenston Rd, Hamilton, ON L8K 1G6, Canada
28 - Destiny wrestling: Summer Heat; Battlearts Wrestling Academy. Featuring MOOSE!
SEPTEMBER
1 - AAW; Berwyn Eagles Club, 6309 W 26th St Berwyn, IL, 7:30pm Bell Time
2 - MOONSHINE BRANDED WRESTLING: Italo-Canadian Hall, 1101 DiPietro Street, Fort Erie, Ontario, Canada, Doors Open @ 6:00p Bell Rings @ 7:00pm, Tickets : $10 CDN or $5 USD
3 - UFC Fight Night: Arlovski vs. Barnett; Hamburg, Germany
6 - SMASH-WRESTLING, Oshawa Music Hall, 39 King St E, Oshawa, Ontario L1H 1B2. Tickets Available.
10 - UFC 203: Miocic vs. Overeem; Cleveland, Ohio
10 - Pure Wrestling Association: COWEX – Duncan, British Columbia
10 - New England Fights 25: HEROES & VILLAINS; Lewiston, MA. Tickets.
TODAY IN PROFESSIONAL WRESTLING HISTORY (8/9): WWF Showdown at Shea; Flair defeats Dusty for NWA Title
---
​