Daily Update: ROH to Hammerstein, TNA re-airs Gold Rush, Will Brooks to UFC
By Dan Velten | @PeachMachine | Jun 15, 2016 2:27 pm
ROH made a big announcement today, that they will be returning to the famed Hammerstein Ballroom in New York City for their biggest PPV of the year, Final Battle. This will mark the first time ROH has run the building since 2014. The company has declined to use the Hammerstein due to increasing facility rental costs, but recently decided to head back to the building. The Hammerstein Ballroom will now be the site of all of ROH's future NYC shows. This site has a lot of history, and should be good news for fans who remember the amazing ECW shows from the late 90's and early 2000's that took place in the iconic building, as well as ROH's previous tenure in the location. 
TNA will be rebroadcasting last night's Gold Rush show tonight on Pop TV. Apparently there were some technical difficulties due to weather that prevented the show to be seen in its entirety in certain markets. That show will at 9pm eastern tonight.
TNA tapes in Orlando tonight, while NXT will be in Liverpool, England.
THE ROUND-UP
---
The 10th annual Wrestling Observer/F4W convention in Las Vegas takes place during UFC's International Fight Week from July 7 - 11. EdinSanAntonio has information up on Facebook, or you can email him at F4Wfan@hotmail.com (Apparently Ed has blocked Bryan Alvarez from attendance in response to Bryan blocking Ed on Twitter... LOL) - It's always a fun time, so hurry up and make your plans to join Dave Meltzer, Bryan Alvarez (yes he'll be there), Vinny, Granny, and the rest of the group in beautiful Las Vegas this July
---
​If you've ever wanted to WATCH our radio shows here on the site, check out our Youtube page! No full video shows, but lots of video clips, full free audio shows that you can tell your friends about, and much more to come! Make sure you subscribe today!  
---
Figure Four Weekly 6/13/2016: Gawker files for bankruptcy - Depending on your point of view, Hulk Hogan went one step further towards either succeeding or failing in his lawsuit against Gawker Media last Friday when the company filed for Chapter 11 bankruptcy protection, the type that allows the company to continue operating. 
---
Wrestling Observer Newsletter
READ IT HERE: June 13, 2016 Wrestling Observer Newsletter: Deaths of Muhammad Ali and Kimbo Slice, Brock Lesnar returning to UFC, more 
A look at the lives and careers of Muhammad Ali and Kimbo Slice, the return of Brock Lesnar to UFC and the story behind it and coverage of the Best of the Super Juniors tournament are the lead stories in this week's issue of the Wrestling Observer Newsletter.
Our Ali story talks about the changes in public opinion on him going through the years, his place in culture, the Ali-Frazier fight, the Ali-Liston fights, his being banned from boxing, the creation of different world titles, the Ali-Foreman fight, the Thrilla in Manila, the inspiration of the movie Rocky, what Ali took from pro wrestling, Gorgeous George and Fred Blassie, and what he gave back to pro wrestling, the Ali vs. Inoki story, Ali's appearances in relation to pro wrestling, Ali's pro wrestling matches that are often forgotten, Ali working the first WrestleMania and the Superdome in New Orleans for Bill Watts, the sad ending of his career and the fraud on the public that was the Larry Holmes fight.
The death of Kimbo Slice is also covered. Read about the circumstances leading to the death, how he became famous, his real background, what he did between football and MMA, the Sean Gannon fight, Elite XC, his television ratings records, the crazy night that was supposed to be the Ken Shamrock fight, the death of Elite XC and how media a misunderstanding ended the promotion, Kimbo's days in UFC, the highest rated season of Ultimate Fighter, and sustaining the drawing power.  Plus, a look at Kimbo Slice and pro wrestling and why it was about to happen, and how it fell apart, is covered. There's also look at Slice in boxing, and the Dada 5000 fight.
Finally, read about the Brock Lesnar to UFC deal, what Lesnar said about why he's coming back should it be believed, the choice of Mark Hunt as the opponent, why the deal took so long to be announced, how this affects pro wrestling, Lesnar's regrets about re-signing with WWE but why you can question that, the drug testing issue and the Ariel Helwani issue that reporting the story first turned into.
CLICK HERE FOR A FULL PREVIEW.
Current subscribers click here to continue reading.
---
You can also order the print Observer right now and get it delivered to your door via mail, by sending your name, address, Visa or Master Card number and an expiration date to Dave Meltzer.
You can also order print issues at www.paypal.com directing funds to dave@wrestlingobserver.com.
 
Rates are:
 
For the United States, it is $13 for 4 issues, $32 for 12, $61 for 24, $101 for 40 and $131 for 52. In Canada and Mexico, rates are $14.50 for 4, $35 for 12, $67 for 24, $111 for 40 and $144 or 52.  In Europe, you can get the fastest delivery and best rates by sending to moonsault@mediaplusint.com  For the rest of the world, rates are $16.50 for 4, $44 for 12, $85 for 24, $141 for 40 issues and $183 for 52.
 
If you order by mail with a check, cash or money order (P.O. Box 1228, Campbell, CA 95009-1228), you can get $1 off in every price range.
If you are a new subscriber ordering 24 or more issues, you can get one free classic issue of your choice sent to you today.  With a 40-issue subscription, you can get two free classic issues. 
Check out the latest online Wrestling Observer BACK ISSUE: May 10, 1999 Wrestling Observer Newsletter: Fans celebrate life of Giant Baba at Tokyo Dome, PRIDE 5 recap, more. The final chapter in the career and life of Shohei Baba took place on the biggest show he ever main evented and the biggest show he ever promoted--some three months after his death.
WEDNESDAY NEWS UPDATE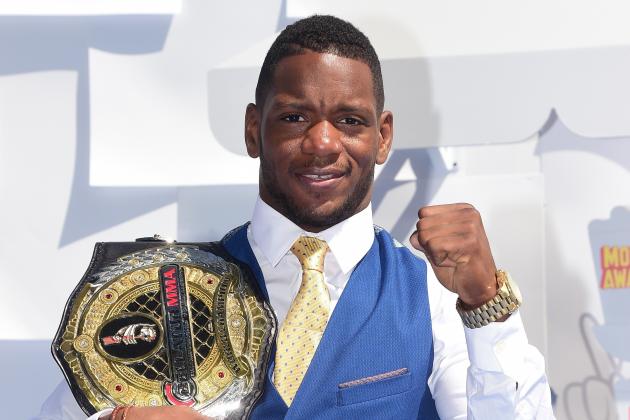 Former Bellator lightweight champion Will Brooks (18-1) has signed a deal with the UFC and will debut on July 8th against Ross Pearson on the TUF 23 finale show in Las Vegas. Brooks was released from Bellator recently after an impasse on where both wanted his career to go. After twice beating Michael Chandler in two title fights, he successfully defended his title twice before the release. He goes into the Pearson fight on a seven fight win streak, while Pearson is 4-4 in his last eight.
For the first time ever in women's wrestling, the SHINE champion, the SHIMMER champion, and the TNA champion will face each other this Friday at the SHINE 35 iPPV in Ybor City, FL. SHINE's titleholder is Taylor Made, Shimmer's champ is Madison Eagle, and TNA's is Allysin Kay, and the loser will drop their belt. The show will also feature a Money In The Bank match between Kellie Skater, Mia Yim, Santana, and Nicole Matthews.
Former UFC fighter John "Doomsday" Howard will debut for World Series of Fighting this Friday on NBC Sports Network. He received a late-notice injury replacement today as his original opponent Thiago Meller pulled out due to injury and he'll now face Michael Arrant.
WWE & Pro Wrestling
UFC & MMA
The Fight Network presents an MMA Tripleheader this Friday, June 17 with WSOF, Hard Knocks & RFA. The broadcast begins live at 9 p.m. ET with World Series of Fighting 31: Ivanov vs. Copeland from Foxwoods Resort Casino in Mashantucket, Conn., followed by Hard Knocks Fighting 50 live from Calgary, Alberta, Canada's Century Casino at 11 p.m. ET. Finally, RFA 39: Barcelos vs. Moffett will air via short tape delay from Indiana's Hammond Civic Center at 2 a.m. ET.
Bellator 156 runs Friday night with a main event of Marcos Galvao vs Eduardo Dantas in a Bantamweight title fight that was originally scheduled for October of 2015 and later postponed to February of this year. Former middleweight champion Brandon Halsey also fights on the undercard for the first time since losing his title to Rafael Carvalho
This Friday's AXS TV show is RFA 39 from Hammond, IN. Featherweight champion Raoni Barcelos (9-1) puts up his title against Bobby Moffett (also 9-1) in the main event.
Fedor Emilianenko will fight on UFC Fight Pass on Friday against Fabio Maldonado for Russian promotion Fight Nights. Earlier in the day, Fight Pass will also broadcast BRACE 41 from New Zealand. Greg Atzori takes on Kieran Joblin in a lightweight fight in the show's main event. Faith Van Duin, fresh off a first round KO loss to Cris Cyborg in an Invicta title challenge last July, drops to Bantamweight to face Charlene Watt in the co-main.
Hard Knocks 50 will air Friday night on streaming service GFL.TV as well as the Fight Network in Canada. The main event is a bantamweight title fight with Jesse Arnett defending against Mike Hernandez. Arnett has made no secret about wanting a shot in UFC
MISCELLANEOUS
Here is an amazing video feature Joe Hendry and Wee Man! You need to watch this.
The sequel to Jean-Claude Van Damme's cult classic action film, HARD TARGET 2, arrives on Blu-ray, DVD, and Digital HD September 6. This movie stars Scott Adkins, and NOT JCVD. Check out the new trailer here.
Results: Pure Wrestling Association, from May 28th, 2016 in Campbell River, BC - Nolan James defeated Chris Dexton, BJ Laredo defeated Shreddz, Cremator Von Slasher w/Riea and Rigor Von Slasher defeated Zakk Green, Scott Steel defeated Bishop to remain Pure Violence Champion, E.O. Mike Becherer defeated Nolan James to remain VIPW Vancouver Island Champion, Krofton defeated Lak Siddartha w/ Riea and Rigor Von Slasher
Results: High Impact Wrestling Evolution 6/10 Regina, Saskatchewan, Cannonball Kelly def Bucky McGraw, Alexander Prime def Amir Jordan, El Asesino (c) def Brett Morgan by DQ, The World Class Renegades (Ace Riviera & Shaun Moore) (c) def The Brotherhood (Dixie Dragon & Jacob Creed), Tony Cage def Brett Evans, Team Flex Appeal (Michael Allen Richard Clark & Mike McSugar) def Merle Graves & Shao Ming, HIW Central Canadian Heavyweight Title Match Tyler Colton (c) def Mentallo
Results: Kat Von Heez def Slammer, Big Jess Youngblood def Barricade, Britton Baylis & Steven Styles def Mutato & Rex Roberts, RCW British Commonwealth Title Match Scott Justice (c) def Tiger Ali, Leon Grayson def Zarif Metovic, RCW Canadian Heavyweight Title Match Bobby Sharp (c) def Nite
SUMMER EVENTS CALENDAR
June 17 - Absolute Intense Wrestling at Mentor-on-the-Lake, OH at Tequila Jaxx with Joey Janela vs. Facade, Shayna Baszler vs. Veda Scott, Laredo Kid, & B.J. Whitmer
June 17 - AAW "Killers Among Us," Drago vs. Chris Hero, at 115 Bourbon Street (3359 w 115th Street Merrionette Park, IL) Tickets available.
June 18 - MCW "Base Brawl" returns to the Regency Furniture Stadium, 11765 St. Linus DR in Waldorf, MD. Tickets here. Ron Simmons, Billy Gunn, and X-Pac will be there.
June 18 - UFC in Ottawa: Rory McDonald vs. Stephen Thompson
June 18 - New England Fights (NEF) returns to the Androscoggin Bank Colisée in Lewiston, Maine with "NEF 24: PROMISED LAND." Tickets for "NEF 24" are on sale now.
June 19 - Steel Pro Wrestling runs at the KoC in Hamilton, ON.
June 19 - New Japan Dominion - Tetsuya Naito vs. Kazuchika Okada in an IWGP title match
June 19 - WWE Money in the Bank from the T-Mobile Arena in Las Vegas
June 24 - ROH Best in the World from Concord, NC with Jay Lethal vs. Jay Briscoe for the ROH title
June 24 - Isao Kobayashi vs. Justin Lawrence will appear on Spike.com at the Bellator Dynamite show in St. Louis. This is a combo MMA & kickboxing show.
June 24 - Thrash Wrestling "Passion for Smashin" - Schubert Centre 3505 30th Avenue, Vernon, British Columbia V1T 2E6
June 25 - C*4: Capital City Championship Combat presents "Crossing the Line 9: DRIVE" -  Vanier Columbus Club, 260 McArthur Ave, Ottawa, Ontario, Canada
June 25 - The United Wrestling Coalition returns to Kelly's Bar/Banquet Hall in Wrightstown, New Jersey on June 25, 2016 for UWC Fan Appreciation Night!
June 25 - PWA Night of Champions - Century Casino Showroom - 1010 42 Ave SE Calgary, Alberta
June 25 - Pure Wrestling Association, Wakas Community Hall, 180 Tsulquate Rd, Port Hardy, BC
June 25 - Great North Wrestling returns to the Pembroke Memorial Centre, featuring Nicolai Volkoff. Tickets available here.
June 25 - The UWC returns to Kelly's Bar/Banquet Hall, 14 Railroad Avenue, Wrightstown, NJ 08562. More information here.
June 25 - Ultima Lucha tapings in Boyle Heights, Los Angeles at The Temple
June 26 - Ultima Lucha tapings in Boyle Heights, Los Angeles at The Temple
July 1 - Pure Wrestling Association is proud to announce our 7th year as part of the Canada Day Celebration. Riverside Park Cambridge, Cambridge, Ontario N3H.
July 2 - Stars of Wrestling from Alameda, CA at the Alameda Point Gym has Bobby Lashley, Carlito and The Boogeyman appearing.
July 2 - NWA Cajun Heat in Morgan City, LA at the Municipal Auditorium with Jax Dane vs. Mustang Mike for the NWA title, and an appearance by Kevin Nash
July 7 - Rock Solid Wrestling runs in Sudbury, ON.
July 7-11 The 10th annual Wrestling Observer/F4W convention in Las Vegas, EdinSanAntonio has information up on Facebook, or email him F4Wfan@hotmail.com
July 9 - Smash Wrestling in Fort Erie, ONT at the Native Friendship Center. Chris Hero will headline this fundraising event.
July 17 - Lucha by the Water ft Blue Demon Jr! - Harbourfront Centre Theatre, 231 Queens Quay West, Toronto, Ontario M5J 2G8, 3-6 pm. Tickets here.
July 17 - Premier Wrestling at the IFDES Lodge and Portuguese Hall in Gilroy, CA with Joe Graves vs. Gabriel Gallo for the Premier. Tickets at www.premierwrestle.com.
July 22 - Ignite Wrestling in Fort Pierce, FL at the National Guard Armory on a show with Lince Dorado, Mr. 450 Hammet, Lio Rush, Martin Stone, Los Ben Dejos, and more
July 23 - Chikara Pro announced a doubleheader event at Toronto's Franklin Horner Community Center.
July 24 - Fenix vs. Pentagon Jr. headlines for Lucha Libre New York at Club LaBoom in Queens, NY
July 31 - BATTLEWAR 36, Les Foufounes Électriques, 87 Sainte-Catherine Street East Montreal, QC
---