Daily Update: Smackdown adds post-show and titles, Mahal returns, Nick Diaz
By F4W Staff | @WONF4W | Aug 2, 2016 2:22 pm
The second Smackdown LIVE will take place tonight in Nashville. WWE announced earlier today that it would be adding a post show on the network, similar to Raw's "Fallout" show. Joseph Currier has more on that story.
Here is tonight's Smackdown preview from WWE.com:
With Raw turning up the heat and an off-the-hook WWE World Title Match set for SummerSlam, what will Commissioner Shane McMahon and General Manager Daniel Bryan do to continue to push Team Blue to the top of the New Era? 
Speaking of the New Era, WWE continues to recycle old talent. Ex Three-Man-Band bassist Jinder Mahal appeared in a segment last night on Raw with fellow band mate Heath Slater. The former friends had a match with the winner receiving a Raw contract. Mahal won, leaving Slater as a free agent. Mahal had a run feuding with the Great Khali in early 2011 that did not do much for him, and the 3MB was obviously a bust. With other former Superstars like Ryhno and Shelton Benjamin scheduled to return soon, it makes you wonder why they are not going after bigger stars.
[Dan Velten]
We're looking for your thoughts on Saturday's UFC 201 and Saturday's G-1 Climax show from Nagoya, so you can leave a thumbs up, thumbs down or thumbs in the middle along with a best and worst match for each show to Dave@WrestlingObserver.com.
NEW JAPAN G-1 CLIMAX TOURNAMENT IN KAGOSHIMA AT THE ARENA WEDNESDAY AT 5:30 A.M. EASTERN TIME ON NEW JAPAN WORLD
Jushin Liger & Tiger Mask vs. Ryusuke Taguchi & David Finlay
Yuji Nagata & Michael Elgin & Satoshi Kojima & Manabu Nakanishi vs. Katsuhiko Nakajima & Toru Yano & Yoshi-Hashi & Gedo
Katsuyori Shibata & Captain New Japan vs. Kenny Omega & Yujiro Takahashi
Tomoaki Honma & Kushida & Juice Robinson vs. Tetsuya Naito & Evil & Bushi
Hiroyoshi Tenzan vs. Bad Luck Fale
Hirooki Goto vs. Tama Tonga
Naomichi Marufuji vs. Seiya Sanada
Hiroshi Tanahashi vs. Tomohiro Ishii
Kazuchika Okada vs. Togi Makabe
---
THE ROUND-UP
---
---
Figure Four Weekly: Figure Four Weekly 7/25/2016: More concussion legality! - Just moments after last week's issue was put to bed, news broke that WWE had been hit by yet another lawsuit from Massachusetts lawyer Konstantine Kyros against WWE. Before, there were of a small handful of wrestlers with no prospects of dealing with WWE again suing strictly over nebulously worded concussion-related claims. This time, there are over 50 plaintiffs, including a lot of surprises, and the counts have been expanded to include variations on misclassifying them as independent contractors as part of an alleged racketeering scheme... Subscribers click here to continue reading.
F4W YouTube Page: No full video shows, but lots of clips, full free audio shows that you can tell your friends about, and much more to come! Make sure you subscribe today!  
---
Wrestling Observer Newsletter: August 1, 2016 Wrestling Observer Newsletter: Brand split week one, Brock Lesnar and the WWE Wellness Policy - The entire story of Brock Lesnar, UFC drug testing, WWE drug testing and its history leads the new issue of the Wrestling Observer Newsletter. There is also full coverage of week one of the brand extension, what has been good and what hasn't, as well as coverage of Battleground, the G-1 Climax tournament, and the deaths of well known personalities on a regional basis like announcer Bill Cardille and Oregon advertising icon Tom Peterson.
A look back at the cases involving Eddy Guerrero and Chris Benoit, the success of the program all inside.
In this issue, take a look at Lesnar's schedule, the situation with Paul Heyman, what the next steps for UFC and athletic commissions regarding the Lesnar test failures and the reaction to all this from Mark Hunt. This issue also looks at Hunt's argument regarding how Lesnar gained financially from cheating and how Lesnar was not treated differently than anyone else when it came to drug testing in the UFC.
Finally, examine week one of the brand split, the changes in the SummerSlam show, Roman Reigns booking, the ascension of Dolph Ziggler and Finn Balor, as well as business notes and a match-by-match rundown of Battleground with star ratings... Subscribers click here to continue reading.
---
Order the print Wrestling Observer right now and get it delivered via mail, by sending your name, address, Visa or Master Card number and an expiration date to Dave Meltzer, or by using Paypal directing funds to Dave@WrestlingObserver.com. 
 
Rates for the United States are $13 for 4 issues, $32 for 12, $61 for 24, $101 for 40 and $131 for 52. In Canada and Mexico, rates are $14.50 for 4, $35 for 12, $67 for 24, $111 for 40 and $144 or 52. In Europe, you can get the fastest delivery and best rates by sending to moonsault@mediaplusint.com. For the rest of the world, rates are $16.50 for 4, $44 for 12, $85 for 24, $141 for 40 issues and $183 for 52. If you order by mail with a check, cash or money order (P.O. Box 1228, Campbell, CA 95009-1228), you can get $1 off in every price range.)
If you are a new subscriber ordering 24 or more issues, you can choose one free classic issue, or two free classic issues with a 40-issue subscription.
Wrestling Observer Newsletter BACK ISSUE: June 28, 1999 Wrestling Observer Newsletter: Reaction to WWF contracted Sable appearing on WCW TV, more on Hart/WWF lawsuit - After a week, it is even less clear what WCW hoped to accomplish when putting Rena Mero on Nitro on 6/14... Subscribers click here to continue reading.
---
TUESDAY NEW UPDATE
Dave Meltzer noted on Wrestling Observer Radio that SmackDown will be adding its own women's and tag team titles. Daniel Bryan did an interview with the Bear Hug it Out podcast, and confirmed Meltzer's report that a women's title will eventually be added to SmackDown.
Katsuyori Shibata will challenge the ROH Television champion at ROH's August 20th TV tapings in Las Vegas. Champion Bobby Fish is scheduled to defend his title against Mark Briscoe the night before at Death Before Dishonor XIV.
After his 18-month suspension officially expired, Nick Diaz talked to ESPN about the suspension and potential opponents he could face upon his return. Diaz also told TMZ he would be willing to fight Tyron Woodley at UFC 202 for the right price.
A round of roster reveals have been made for WWE 2K17 with Aiden English & Simon Gotch of the Vaudevillains, Booker T, Brian Pillman, Brie & Nikki Bella, Chris Jericho, Diego & Fernando of Los Matadores, Erick Rowan, Heath Slater, Jey & Jimmy Uso, Jim Neidhart, Konnor & Viktor of the Ascension, Larry Zbyszko, R-Truth, and The Ultimate Warrior all being announced for the game.
The judge in the Jimmy Snuka case has denied the District Attorney's request to drop the charges, stemming from the 1983 death of Snuka's girlfriend at the time. That means that Jimmy Snuka, at this point, is likely to stand trial for murder shortly.
World Wrestling Entertainment
Jinder Mahal's win over Heath Slater last night was the first time he had ever won a singles match on Raw. He only has 2 wins prior on Raw with 3MB in tag matches. The first on 10/29/2012 with he and Heath beating Santino Marella & Zack Ryder. The other was on 1/14/2013 where he, Heath and Drew McIntyre beat Sheamus in a handicap over the top rope elimination match. And yes, he did win his first few singles matches on Smackdown in the Summer of 2011, but none on Raw until tonight.
WWE.com furthered the storyline with an article claiming that Big E suffered a groin injury, after last night's beatdown of the New Day at the hands of Karl Anderson and Luke Gallows.
WWE uploaded official video of Finn Balor's NXT farewell.
"Total Bellas" will begin airing Wednesday, October 5 at 8pm ET/PT - From the E Network, "Total Bellas," gives viewers exclusive access into the lives of The Bella Twins and their significant others, John Cena and Daniel Bryan, as the WWE SUPERSTARS move in together and enter a new chapter of their lives, both professionally and personally. The series kicks-off with Nikki and John being sidelined by injuries and Daniel's recent retirement from the ring.
With the release of Pat Patterson's autobiography, Triple H, Chris Jericho, and Dolph Ziggler discussed the impact that Patterson has had on the wrestling business.
As noted yesterday, Lilian Garcia will no longer be working for WWE. She is quitting in order to be closer to home so that she can help take care of her father who is in declining health. He has two different types of cancer. Garcia posted about it on Instagram.
WWE released a commercial for September's SmackDown exclusive Backlash pay-per-view.
Recent signee to WWE developmental territory, Nicola Glencross, has joined the NXT brand and claims that women wrestlers are no longer divas.
PROFESSIONAL WRESTLING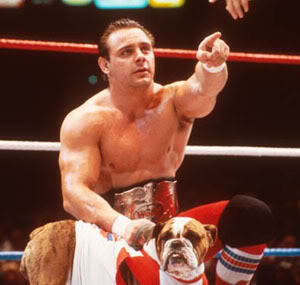 Former Stampede Wrestling Booker, Dungeon head trainer & Stampede, NJPW and WWE wrestler Bruce Hart (Son of Stu Hart) discusses "Dynamite Kid" Tom Billingston, whether Billington roughed up Bret Hart in the ring and an incident in Northern Canada where Bruce was attacked by Dynamite from behind causing his jaw to be dislocated in this video.
PROGRESS Wrestling made three announcements yesterday. A third date was added to their Smash Wrestling vs. PROGRESS tour of Canada on Friday September 16th in Oshawa, their Super Strong Style tournament will expand next year with the addition of a third day, and they will also be debuting in a third English city in 2017 with the addition of shows in Birmingham.
UFC/MMA 
Three fights have been added to the UFC Portland show on October 1st. Former Bellator champion Will Brooks takes on Alex Oliveira, coming back down to 155, in a lightweight bout. In another lightweight fight, Josh Burkman goes up against Bobby Green. Kelly Fasholz will face the debuting Ketlen Vieira in a women's bantamweight fight on the same show.
Tyron Woodley has a message for all of his fans after his big win, in the UFC minute. 
A flyweight matchup pitting Lena Ovchynnikova (11-4) against Jaimelene Nievera (4-1) has been added to the main card of "Bellator 160: Henderson vs. Pitbull" on August 26 at Honda Center in Anaheim, Calif.
Rafael dos Anjos vs. Tony Ferguson is rumored for UFC's TUF Latin America 3 finale on November 5th. Ferguson responded to the rumors, saying that he would love to fight dos Anjos.
Combate Americas is having an open fighter tryout in LA on Saturday, August 13 hosted by Julianna Pena and Danny Castillo.
VARIETY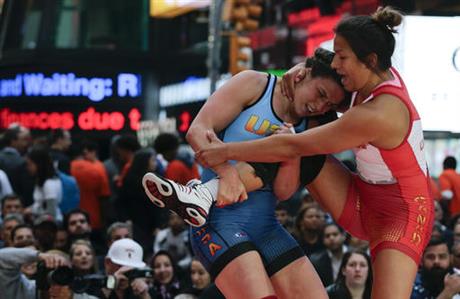 Here is a full schedule for wrestling at the Olympics. Besides whataver television coverage NBC Universal has of the Rio Games, NBCOlympics.com will live stream wrestling and all other sports including judo, taekwondo and boxing.
Corey Taylor of the band Slipknot talked about pro wrestling and slapping Baron Corbin on the Squared Circle Pit podcast.
RESULTS: Smash Wrestling: Uncensored Results! Oshawa Music Hall Oshawa, Ontario, July 30 - Big Tank defeated Masked Lumberjack, Space Monkey def. Jaxon Jarvis, Jewells Malone def. Xandra Bale, Franky the Mobster was victorious in Fatal Fourway, Rosemary (Courtney Rush) def. Mike Rollins, The Super Smash Bros. won a triple threat tag bout, Tyson Dux def. Jesse Amato, After the match we were interrupted by The Kevin Bennett Experience, who beat down Dux and then humiliated him by having an "impromptu" match, where Bennett nailed Dux with the Remix, and had the Muscle count the three, while Big Tank rang the bell.
RESULTS: PWP WrestleRama X, 7/29, Omaha, NE - Purple b. Robert Storm, Cuco Santiago b. Dalton Lee Roth, Pat Powers b. Jon West, Con Artiest b. Devin Carter, Darren Russell & Duke Cornell b. Paul Daniels & Joey Daniels, Hype Gotti b. Sonjay Dutt. Next event is 8/25, headlined by Michael Elgin vs Branden Juarez vs Hype Gotti in a 3 way
The Summer Slam Events Calendar
AUGUST
4 thru 6 - !BANG! TV - Professional Wrestling Spectacular, 3 charity shows in 3 days.
5 - Super Wonder Gallery, 876 Bloor St. W., Toronto, Ontario M6G 1M5. Tickets.
5 - NEF Presents Dana White: Looking for a Fight. More info here.
6 - Rock Solid Wrestling: Alliston Potato Festival - Alliston, Ontario
6 - Smokey Mountain Wrestling: Fire on the Mountain - Jason Kincaid defends against Elliott Russell, Civic Auditorium, 1550 Fort Henry Dr., Kingsport, TN
6 - Crossfire Wrestling return to Bissell's Hideaway for Battle Of Bissells II. The price is $20 for all day pass at the park and the wrestling show.
6 - Upstate Professional Wrestling presents: Headlocks & Homeruns 5 at the Premier Sports Center in Webster, New York.
6 - UFC FIGHT NIGHT - Rodriguez vs. Caceres, from Salt Lake City, UT
6 - Absolute Intense Wrestling: Girls Night Out in Cleveland at Our Lady of Mt Carmel with Crazy Mary Dobson, Allysin "Sienna" Kay, Veda Scott, Shayna Baszler, Annie Social, Kelly Klein, Heidi Lovelace, Lufisto, Nicole Savoy and more.
12 - BIG WEST WRESTLING presents BOWLING, BODYSLAMS & BBQ, Lake City Bowling & Billiards: Kelowna, BC
12 - Zack Sabre Jr. vs. Jeff Cobb has been added to the Revolution Pro show in London at York Hall in Bethnal Green.
13 - Elite Canadian Championship Wrestling: Civil War, Russian Community Centre, 2114 W 4th Ave, Vancouver, BC 7:30pm Bell Time
13 - Viva La Lucha: San Diego, CA, Montgomery High School - This show is a special fundraiser event in the 619 featuring Rey Mysterio, John Morrison, TJP, Nicho/Psychosis, Teddy Hart, Willie Mack, Vermin, Los Luchas and more.
13 - World Women's Wrestling 2016 IRON MAIDEN Championship at the America Civic Center in Wakefield, MA
13 - wXw NOW - The End (Tommy End's final show in Germany, booked by The Sumerian Death Squad)
13 - NWA Mid South Wrestling in Dyresburg, TN at the Herb Welch Wrestle Plex headlined by Matt Riviera vs. Jeremy Moore.
19 - We Watch Wrestling LIVE Podcast Recording – Copper Still 4485 Beverly Blvd, Los Angeles, CA 90004
19 - Superkick'd Pro Wrestling Rock Show - Blazed The Great Hall, 1087 Queen Street West, Toronto, Ontario M6J 1H3
19 - The Hardys, Drew Galloway, Ethan Carter III and Mickie James appear for House of Glory Wrestling in Jamaica, NY.  That's the Friday before SummerSlam.
20 - LIVE PRO WRESTLING! "FIGHTING BACK 6: WRESTLING WITH CANCER" - Vanier Columbus Club, 260 McArthur Ave, Ottawa, Ontario, Canada
20 - Reality of Wrestling presents: SUMMER OF CHAMPIONS III - Featuring Kurt Angle, from the World Gym Arena in Texas City, TX. The event is preceded by a VIP Meet and Greet session to feature WWE Hall of Famer Booker T, Kurt Angle and the lovely Queen Sharmell. Tickets here. A portion of the proceeds from each ticket sale will be going to the Booker T Fights For Kids Foundation.
20 - "Best In The West" in Fresno, CA from the VFW Hall #8900, located at 3585 N Blythe at 6pm. Featuring Jeff Cobb, Joey Ryan, and Mustufa Saed.
20 - UFC 202 - Diaz vs. McGregor 2, from Las Vegas, NV
21 - WWE Presents THE SummerSlam PPV event at the Barclays Center in Brooklyn, New York. It will be the twenty-ninth event under the SummerSlam chronology and the second consecutive SummerSlam to be hosted in the Barclays Center.
21 - Chavo Guerrero Jr. will appear for Smash Wrestling on in Pickering, Ontario at Super Showdown lV.
21 - Octagon & Tinieblas Jr. vs. Fuerza Guerrera & Pirata Morgan headlines in Houston at the Arena Theater.  
26 - All Star Wrestling - Cloverdale, BC at the Cloverdale Fairgrounds Alice McKay Building, it's the semifinals and finals of the All Star Wrestling Tag Team Tournament.
26 - Absolute Intense Wrestling - Our Lady of Mt. Carmel, 1355 W. 70th St. Cleveland, OH
26 - CONFLICT Wrestling: "Black or White"
26 - Bellator 160 from the Pond in Anaheim and live on Spike TV. Benson Henderson vs Patricio Pitbull Freire
27 - Battlearts: Summer Heat - 4880 Tomken Road, Mississauga, Ontario L4W 1J8
27 - LuchaTO at the Benelife Wellness Centre, 68 Tycos Drive, Toronto, Ontario, M6B 1V9
27 - UFC FIGHT NIGHT - Maia vs. Condit from Vancouver, BC.
28 - Steel City Pro Wrestling: End Game Aug 28th - 222 Queenston Rd, Hamilton, ON L8K 1G6, Canada
28 - Destiny wrestling proudly presents "SUMMER HEAT" at the Battlearts Wrestling Academy. Featuring MOOSE!
TODAY IN PRO WRESTLING HISTORY (8/2): Ron Simmons captures WCW gold in historic fashion
---
​