Daily Update: TNA teases Rhodes, Swann vs. Dorado, Gall wants Northcutt
By F4W Staff | @WONF4W | Sep 21, 2016 2:33 pm
THE ROUND-UP
The Latest from the F4W Staff
TNA teases debut for Impact Thursday - Who could it be? The guess is obviously Cody Rhodes.
WWE SmackDown live results: Cena vs. Ambrose; I-C title match - Read the results from Smackdown last night so that you can clear space off your DVR just in time for the awesome fall lineup. Steve Khan has you covered.
WWE SmackDown video highlights: John Cena vs. Dean Ambrose - Now that you've read about Smackdown, just watch the parts you want in highlight form. Joe Currier has it on lockdown.
The Usos vs. Heath Slater & Rhyno booked for WWE No Mercy - James and J. Uso will take on Heathcliff Slater and Terrance "The Rhinocerous" Gerin at WWE No Mercy, the next Smackdown branded Pay-Per-View / WWE Network special event.
Stardom Five Star Grand Prix tournament finals are set - All the news and notes from the Stardom womens wrestling promotion brought to you by our man Chris Aiken. 
WOL: Solo Sempervive on a tough night for Raw, TNA rumors, more 9/20 - Listen to find out if Semp can hold down the fort sans Bryan. 
B&V&V: Retro Raw and Nitro, first Stunner on Vince McMahon, first Goldberg match! 9/20 - They boys are back. Listen to Bryan and Vinny and Craig breakdown the infamous William Goldberg vs. William "Hugh Morrus" DeMott match.
Daily Update: Raw ratings still bad, Adam Cole visits ESPN, Cyborg heavy - If you were asleep most of yesterday, catch up with yesterday's daily update.
---
Figure Four Weekly, 9/19/2016: The Unlikely Story of TJ Perkins (Part I)  - T.J. Perkins being the winner of WWE's Cruiserweight Classic and first champion of the new version of the cruiserweight division was something of a surprise. It was clear that Zack Sabre Jr. and Kota Ibushi were booked as the stars, but neither signed with the company. Gran Metalik (Mascara Dorada) and Perkins, who both signed... Subscribers click here to continue reading.
F4W YouTube Page: Tons of clips and full free audio shows that you can tell your friends about, and much more to come! Make sure you subscribe today!  
---
Wrestling Observer Newsletter, September 19, 2016: CM Punk loses UFC debut, TJ Perkins wins Cruiserweight Classic, Backlash review, tons more - The two-year odyssey, odd being the key part of the word, of C.M. Punk to the UFC octagon saw the door shut and the clock strike midnight, not Eastern time, but Cinderella time.
In the end it was simple reality. Starting out at 36 with very limited training past some Jiu Jitsu classes from Rener Gracie, no great athletic gifts and a body beaten up by 15 years of pro wrestling was not going to be able to train for two years and be able to compete in the UFC.
Subscribers click here to continue reading.
---
Order the print Wrestling Observer right now and get it delivered via mail, by sending your name, address, Visa or Master Card number and an expiration date to Dave Meltzer, or by using PayPal directing funds to Dave@WrestlingObserver.com. 
 
Rates in the United States are $13 for 4 issues, $32 for 12, $61 for 24, $101 for 40 and $131 for 52. In Canada and Mexico, rates are $14.50 for 4, $35 for 12, $67 for 24, $111 for 40 and $144 or 52. In Europe, you can get the fastest delivery and best rates by sending to moonsault@mediaplusint.com. For the rest of the world, rates are $16.50 for 4, $44 for 12, $85 for 24, $141 for 40 issues and $183 for 52. If you order by mail with a check, cash or money order (P.O. Box 1228, Campbell, CA 95009-1228), you can get $1 off in every price range.)
If you are a new subscriber ordering 24 or more issues, you can choose one free classic issue, or two free classic issues with a 40-issue subscription.
WON Back Issue, August 30, 1999: WWF Summerslam, Hulk Hogan and Bret Hart first match, more - Jesse Ventura's return to pro wrestling drew the mainstream attention which probably led to a lot of curiosity buys, and WWF made the most of it putting on one of the better PPV shows of 1999. Subscribers click here to continue reading.
---
SUPPORT THE EMPIRE~!
If you've ever wanted to pay someone else's grandmother to read about her favorite grandson, now is your chance. To get a copy of Granny's book, THE DAYS IN THE LIFE OF BRYAN ALVAREZ, send $15 US, $17 Can., or $20 intl. to her PayPal, gladiola3@comcast.net, along with your name and address.
The latest NFL offereing from Vinny V is now available in podcast form. Vinny V's football podcast, LOCKED ON SEAHAWKS, can be heard on audioboom.com. Follow Vinny V and @lockedonseahawks so that you never miss a show.
The Death of WCW by Bryan Alvarez and RD Reynolds is now available as an audiobook through Amazon.com and Audible. Bryan did the narration for the book and it runs almost fifteen hours, so grab yours today!
---
WEDNESDAY NEWS UPDATE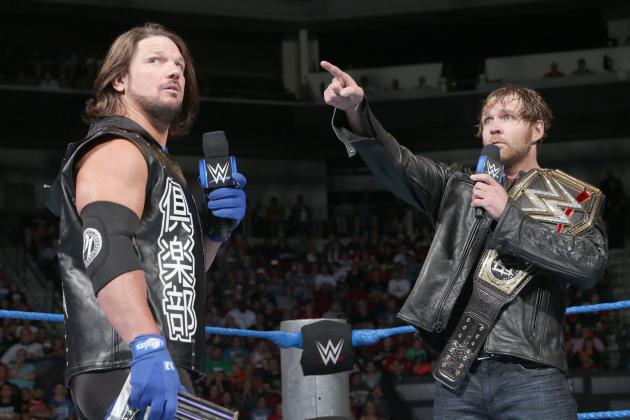 After he defeated John Cena last night, it was announced that Dean Ambrose will challenge AJ Styles for the WWE World Championship on next week's episode of SmackDown.
WORLD WRESTLING ENTERTAINMENT
PROFESSIONAL WRESTLING
UFC & MMA
What'd you expect to happen?
VARIETY
---
EVENTS CALENDAR
Thursday 9/22 - Sunday 9/25
Thursday 9/22
Friday 9/23
Saturday 9/24
Sunday 9/25
---
CONTACT INFORMATION
​