Daily Update: UFC Fight Night, ROH Reloaded, Miz negotiations
By F4W Staff | @WONF4W | Sep 17, 2016 3:08 pm
THE ROUND-UP
The Latest from the F4W Staff
ROH: Reloaded Tour; Lockport (Buffalo), NY
ROH Reloaded Pittsburgh, PA, live results: National sports controversy spoofed by The Cabinet - Last night was a wild six way main event when Colt Cabana, Dalton Castle, and Jay Lethal teamed up to take on the Bullet Club. Night two of the ROH Reloaded tour features a traditional tag team main event as Castle and Cabana take on the Briscoes. If WWE were writing this, Castle and Cabana would be called Team Cabastle. Also featured tonight is the grappling cooperative of Mandy Leon and Deonna Purrazzo to take on Taeler Hendrix and Jessicka Havok. 
WWE confirms six more cruiserweights headed to Raw - Which six of the 32 made the cut? Joe Currier will fill you in.
NJPW Destruction in Tokyo results: Shibata vs. Bobby Fish; KUSHIDA vs. BUSHI - Check out the results from Japan as covered by our Staff. We sent one staffer ahead in time to report back from Japan. 
Bellator 161 live results: Kongo vs Johnson; Warren vs Kakai - If you missed it, don't worry, Gramps Fontaine has you covered.
UFC Fight Night 94 DFS Playbook: Who to target & who to avoid - Check out what RFred, Gramps Fontaine, and Peach plan to do with their winnings.
WWE Main Event results: Jason Jordan vs. Aiden English; Kane vs. Fandango - As always, Kevin Timothy makes reading about Kane matches awesome! 
Don Bass loses battle with cancer - We are sad to report the passing of the Don Bass. Dave Meltzer has the details.
NXT Cocoa, FL, live results: Cedric Alexander vs. Andrade 'Cien' Almas - Do you remember your numbers from Spanish class? JJ Williams knows what 'cien' means without even having to use Google translate. 
---
WEEKEND SHOWS & TELEVISION SCHEDULE
TONIGHT
UFC FIGHT NIGHT: POIRIER VS. JOHNSON, FROM HIDALGO, TX
UFC Fight Pass at 7 p.m. Eastern
Albert Morales (135) vs. Alejandro Perez (135)
Randy Brown (171) vs. Erick Montano (171)
Fox Sports 1 at 8 p.m. Eastern
Joey Gomez (135) vs. Jose Quinonez (134.5)
Antonio Carlos Jr. (185) vs. Leonardo Guimaraes (186)
Augusto Montano (170.5) vs. Belal Muhammad (170.5)
Gabriel Benitez (145.5) vs. Sam Sicilia (146)
Maximo Blanco (145.5) vs. Chas Skelly (146)
Chris Wade (156) vs. Islam Makhachev (155.5)
Kenny Robertson (170.5) vs. Roan Carneiro (171)
Evan Dunham (156) vs. Rick Glenn (154.5)
Derek Brunson (186) vs. Uriah Hall (185.5)
Dustin Poirier (156) vs. Michael Johnson (154.5)
Please send reports on these shows: NewsTips@WrestlingObserver.com
WWE Raw in Evansville (all the main stars of the brand headlined by Roman Reigns, Seth Rollins, Kevin Owens, Rusev, New Day, Gallows & Anderson, Sami Zayn, Charlotte and Bayley)
WWE Smackdown in Springfield, MO (all the main stars of the brand but no John Cena, with A.J. Styles, Randy Orton, Bray Wyatt, The Miz, Becky Lynch, Natalya, and Dean Ambrose as headliners)
NXT in Omaha (headlined by Shinsuke Nakamura, Samoa Joe, Bobby Roode and Asuka)
NXT in Tampa (headlined by Andrade Cien Almas, Buddy Murphy and Wesley Blake)
ROH in Lockport, NY (Honor Rumble, winner gets a title shot on 10/22 in Lakeland, FL, plus Colt Cabana & Dalton Castle vs.  Mark & Jay Briscoe, Christopher Daniels vs. Chris Sabin vs. Matt Jackson, Frankie Kazarian vs. Alex Shelly vs. Nick Jackson, Kenny King & Rhett Titus & Caprice Coleman vs. ACH & Jay White & Lio Rush, Kamaitachi vs. Jonathan Gresham, Deonna Purrazzo & Mandy Leon vs. Taeler Hendrix & Jessicka Havok)
House of Hardcore in Philadelphia at the 2300 Arena (Tommy Dreamer with Terry Funk in his corner vs. Matt Hardy with Senor Benjamin in his corner, Ricochet vs. Sami Callihan, Chris Hero vs. Tony Nese plus Brian Myers and more).
SUNDAY
We'll be looking for reports on these shows tomorrow: NewsTips@WrestlingObserver.com
WWE Raw in Huntsville, AL (all the main stars of the brand headlined by Roman Reigns, Seth Rollins, Kevin Owens, Rusev, New Day, Gallows & Anderson, Sami Zayn, Charlotte and Bayley)
WWE Smackdown in North Little Rock, AR (headlined by A.J. Styles, Dean Ambrose, Randy Orton, Bray Wyatt, The Miz, Becky Lynch and Natalya)
NXT in Minneapolis (headlined by Shinsuke Nakamura, Samoa Joe, Bobby Roode and Asuka)
MONDAY
Raw will be Monday night in Memphis. It will be the go-home show for Clash of Champions. Chris Jericho is added to the roster with the other stars on the tour. Cesaro vs Sheamus in match number six of their best-of-seven series will be on the show.
Smackdown will have a Monday night house show in Tupelo, MS, with A.J. Styles, Randy Orton, Dean Ambrose, The Miz, Becky Lynch and Natalya.
TUESDAY
Smackdown and Main Event will be on Tuesday night from Birmingham, AL. John Cena is scheduled for his only show of the week on Tuesday.
---
Figure Four Weekly, 9/12/2016: More on the Last Battle of Atlanta, wrestling Holy grails, and WWE's video library - The release of the Last Battle of Atlanta on WWE Network, discussed here last week in advance of it dropping, was met with mixed reaction online. The namesake match itself, Tommy Rich vs. Buzz Sawyer in a cage (with a roof on top for the first time in wrestling history) had become legendary more due to magazine hype and the lack of available footage than anything else... Subscribers click here to continue reading.
F4W YouTube Page: Tons of clips and full free audio shows that you can tell your friends about, and much more to come! Make sure you subscribe today!  
---
Wrestling Observer Newsletter, September 19, 2016: CM Punk loses UFC debut, TJ Perkins wins Cruiserweight Classic, Backlash review, tons more - The two-year odyssey, odd being the key part of the word, of C.M. Punk to the UFC octagon saw the door shut and the clock strike midnight, not Eastern time, but Cinderella time.
In the end it was simple reality. Starting out at 36 with very limited training past some Jiu Jitsu classes from Rener Gracie, no great athletic gifts and a body beaten up by 15 years of pro wrestling was not going to be able to train for two years and be able to compete in the UFC.
Subscribers click here to continue reading.
---
Order the print Wrestling Observer right now and get it delivered via mail, by sending your name, address, Visa or Master Card number and an expiration date to Dave Meltzer, or by using PayPal directing funds to Dave@WrestlingObserver.com. 
 
Rates for the United States are $13 for 4 issues, $32 for 12, $61 for 24, $101 for 40 and $131 for 52. In Canada and Mexico, rates are $14.50 for 4, $35 for 12, $67 for 24, $111 for 40 and $144 or 52. In Europe, you can get the fastest delivery and best rates by sending to moonsault@mediaplusint.com. For the rest of the world, rates are $16.50 for 4, $44 for 12, $85 for 24, $141 for 40 issues and $183 for 52. If you order by mail with a check, cash or money order (P.O. Box 1228, Campbell, CA 95009-1228), you can get $1 off in every price range.)
If you are a new subscriber ordering 24 or more issues, you can choose one free classic issue, or two free classic issues with a 40-issue subscription.
WON Back Issue, August 23, 1999: WCW Road Wild review, NJPW G1 Climax results, plus tons more - Steve Austin has become the subject of a lot of talk in the past week, with his various injuries, his probable, maybe almost assured dropping of the WWF title at SummerSlam and stories regarding him becoming harder to deal with... Subscribers click here to continue reading.
---
---
SATURDAY NEWS UPDATE
The Death of WCW by Bryan Alvarez and RD Reynolds is now available as an audiobook through Amazon.com and Audible. Bryan did the narration for the book and it runs almost fifteen hours, so grab yours today!
WORLD WRESTLING ENTERTAINMENT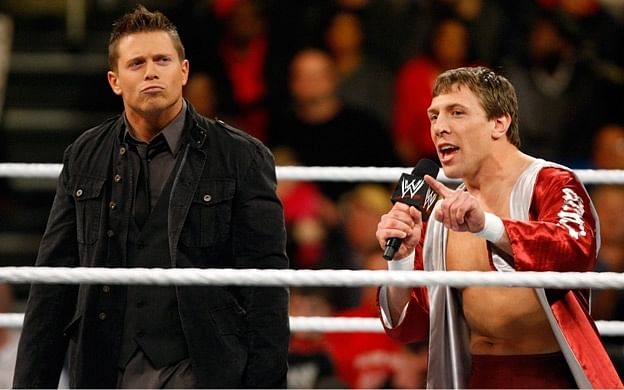 After Daniel Bryan tweeted that he was in storyline contract negotiations with The Miz, WWE issued an update saying the negotiations have broken down and Miz tweeted that he won't sign unless he's paid what he's worth. Bryan called Miz's terms utterly delusional.
WWE is advertising Seth Rollins vs. Rusev for next Monday's Raw. The show will also feature the debut of Raw's cruiserweight division and the sixth match in the best-of-seven series between Cesaro and Sheamus.
At last night's Raw house show in Louisville, Emma returned as a special guest referee for a six-woman tag pitting Sasha Banks, Bayley and Alicia Fox against Charlotte, Dana Brooke and Nia Jax.
Johnny Gargano and Candice LeRae had their wedding yesterday. Gargano's tag team partner Tommaso Ciampa was in his wedding party, along with fellow wrestlers Chuck Taylor (DUSTIN), Matt Cross (Son of Havoc), and Gregory Iron. There was a lip sync battle at the reception.
Former college football player Mike Rallis, renamed Riddick Moss in WWE, talks his time playing NCAA football for University of Minnesota before signing with WWE.
PROFESSIONAL WRESTLING
Ring Rust Radio: At Death Before Dishonor, you were able to capture the ROH world title for the second time. When we spoke to you last time, you were just coming off an injury that left you sidelined for months. What was the journey from injury to champion like mentally, and now that you have the gold, was all the pain and sacrifice worth it?
Adam Cole: Well, to answer the second part of your question first, I say absolutely everything was worth it. I know this is a cliché answer, but I eat, sleep, and breathe wrestling. When I am not around wrestling, I don't know what to do with myself. I love the entire environment, the travel, the crowd, the performance and everything. I couldn't wait when I was injured to come back and push myself to the point of becoming the world champion again. It certainly was a mentally and physically hard road coming back from the three surgeries on my left arm and even recently when I had a bout with pneumonia and lost 17.5 pounds. It was tough, but being able to stand in that ring in Las Vegas and say that I have become the Ring of Honor world champion for a second time and getting a second chance to be with in my opinion the most prestigious title in pro wrestling is really cool.
UFC/MMA
In advance of her first headlining fight at next weekend's UFC show from Brazil, The Fight Network is airing a three-hour special on Cristiane Justino called "Rise of a Cyborg." The show airs every day this week at various times.
Legacy FC results from last night on AXS TV - Trevin Giles (8-0) 3rd round sub over Ike Villanueva (11-8) in the main event; Justin Reiswerg (10-6) 2nd round sub over Jason Langellier (4-1); Domingo Pilarte (6-1) 38 second KO over Chris Pham (5-6)
VARIETY
"Kickboxer Vengeance" movie director Dimitri Logothetis discusses working multiple time WWE World Champion Batista and UFC such as GSP and Cain Valesquez in the first movie of the news series and if we can expect more UFC champion in future sequels.
"The HANNIBAL TV" was at the Kickboxer Vengeance Canadian premier last night and interviewed the movie's star Alain Moussi who plays Kurt Sloane in the film.  The interview can be seen here.
"WWE Hall of Famer" Gerald Brisco 30 minute interview video clip where he discusses a variety of topics including his multiple Hall of Fame awards, WWE scouting, fan attacks, Bob Backlund and more. Here is the link.
Great North Wrestling's full 40 minute shoot interview with Wrestling Observer editor Dave Meltzer is now posted at this link.
Tommy Dreamer stopped by Wrestledelphia Radio ahead of House of Hardcore 18 in Philly. As always, Dreamer held nothing back on why he turned down WWE, the Dudleys leaving, Joey Styles' firing, and much more.
WWE wrestlers are more recognizable to children than England captain Alastair Cook, according to research by the ECB.
RESULTS: FIST Combat (@fistcombatsc) Watsonville CA: Jheri Giggalo defeated Moondog Madman, Moo Moo Mauler d. Nicky Savage w/roll up and held the tights, Dave Wasted d El Guererro with a roll up, NC 17 d. Mascara Infernal & El Sancho, Seabass d Alexander G Bernard in a NO DQ match, Anarkya won a 4 way match with Big Baby Powder, Mantiz Lee, and Chino Gambino, Kaka Meng & Desi De Rata d. "Jackpot" Scotty Wringer & Sledge w/Samara & AGB when Sledge got fed up and left Wringer. 
FIST Combat's next show is Friday 9/30 at the VFW in Santa Cruz.
RESULTS: Championship Wrestling Entertainment held an event in Orlando, FL at the Team Vision Dojo. It featured their Vixen's division. Thea Trinidad b Raegan Fire, Ivory Robyn b Layne Rosario, Santana Garrett b Kaci Lennox to retain the CWE Vixen's title (Lennox challenged Santana to an impromptu match), Mila Naniki b Rex Bacchus (intergender match), Tyranus b Chico Adams to retain the CWE Heavyweight title, Santana Garrett beat Queen Raquel to retain her title and win Raquel's Queen title, Tyranus b Chico Adams to retain the CWE Heavyweight title, Thea Trinidad won a #1 contender's over the top rope women's battle royal (girls kept going through the ropes & told that's not the rule).
I Believe in Wrestling holds an event tonight at the Team Vision Dojo. 7 matches featuring a no DQ match for the SCW Florida Heavyweight title with Rhett Giddins defending against Brandon Scherer plus a three-way with Santana Garrett vs. Raquel vs. Thea Trinidad. Tickets are $10 & $15.
Former WCW Tag Team Champion Buff Bagwell was the latest guest on the Pancakes and Powerslams Show. He has some controversial things to say about CM Punk fighting at UFC 203, as well as details about his current lawsuit with WWE. Here are some highlights.
On not believing Samoa Joe is a big draw: "Samoa Joe, to me, I've never got that," Bagwell expressed. "I know he's very popular. I know he's very good in the ring, I think he's a great wrestler, I like to watch him. But when you've got a chance to do a storyline, to the world of wrestling fans, who's going to be Sting's tag team partner, and the options are Lex Luger, Marcus Bagwell, and Samoa Joe. I mean, who in the heck is Samoa Joe? And Luger wasn't fit enough, so I fit the part perfectly." He added, "I really don't know where [TNA] were going with that, except maybe a push for Samoa Joe? Me and Samoa Joe haven't spoke 10 words together. He was on one independent show with in in Cleveland, and he got mad because I was in the main event and he wasn't. To me, Samoa Joe is a fat, out of shape guy who looks like he should not be in a wrestling ring, and I've not heard or seen anybody ever draw a dollar with him."
On CM Punk not passing the "Walmart Test": "Here's how I look at it. If I was a promoter like Vince McMahon or Ted Turner, if I was trying to make money in the wrestling industry, I would judge it by having a person walk through Walmart. If CM Punk walked through Walmart even as popular as he is, he's not going to get noticed as much as Hulk Hogan walking through Walmart. The reason why I say Walmart, is [because] that is our fanbase."
---
CONTACT INFORMATION
​