Daily Update: WWE prepares for WrestleMania week, Brie Bella to retire
By F4W Staff | @WONF4W | Mar 25, 2016 1:14 pm
WWE preppin' strong for WrestleMania Week
While sites likes ours are more critical of WWE for booking and creative, the mainstream media still loves them, especially during big weeks like WrestleMania Week. Here's just a little of what they have on tap for next week:
WWE Chief Brand officer Stephanie McMahon will be featured in a special segment on the 3/27 edition of "CBS Sunday Morning" at 9 AM EST.

Sheamus on the March 28 episode of "Men in Blazers" on NBC Sports Network and NBCSports.com at 11 PM EST.

Eva Marie will be on Hallmark Channel's "Home & Family" on March 28 at 10 AM EST.

John Cena will be a co-host of NBC's Today show from Monday-Wednesday during the 9 AM EST hour.

Cena will be on Jimmy Fallon's Tonight Show on Tuesday, 3/29.
WWE will be a heavy presence on ESPN with scheduled appearances by Stephanie McMahon, HHH, Shane McMahon, and Undertaker starting on Monday.
NEW JAPAN WORLD PRO WRESTLING RETURNS ON AXS TV AT 9 P.M. FRIDAY EASTERN TIME
Kushida vs. Kyle O'Reilly in the finals of the 2015 Best of the Super Junior tournament
CMLL FROM ARENA MEXICO AT CLAROSPORTS.COM AT 10:30 P.M. EASTERN ON FRIDAY NIGHT
Aereo & Ultimo Dragoncito vs. Mercurio & Nitrito
Estrellita & Princesa Sugei & Skadi vs. Amapola & Dallys & Tiffany
Angel de Oro & Guerrero Maya Jr. & Stuka Jr. vs. Luciferno & Polvora & Rey Hechicero
Brazo de Plata & Caristico & Marco Corleone vs. Rush & Pierroth & La Mascara
Cibernetico vs. Ultimo Guerrero
Atlantis & Mascara Dorada & Volador Jr. vs. Barbaro Cavernario & Negro Casas & Mr. Niebla
WWE has shows on Saturday night in Trenton, NJ, Richmond, VA and NXT in Orlando. 
NEW JAPAN FROM KORAKUEN HALL ON SUNDAY AT 5:30 A.M. EASTERN TIME ON NEW JAPAN WORLD
Kushida & Jushin Liger & Tiger Mask & David Finlay vs. Tomohiro Ishii & Toru Yano & Rocky Romero & Trent Baretta
Katsuyori Shibata & Ryusuke Taguchi & Captain New Japan & Juice Robinson vs. Hiroyoshi Tenzan & Satoshi Kojima & Yuji Nagata & Manabu Nakanishi
Michael Elgin vs. Cody Hall
Jay White vs. Kenny Omega
Hiroshi Tanahashi vs. Yujiro Takahashi
Tomoaki Honma vs. Bad Luck Fale
Togi Makabe vs. Tama Tonga
Kazuchika Okada & Hirooki Goto & Yoshi-Hashi vs. Tetsuya Naito & Bushi & Evil
WWE on Sunday has a in Washington, DC.
The last show before WrestleMania will be a combined Raw and Smackdown taping on Monday night at the Barclays Center in Brooklyn. The show is expected to be a sellout.
---
Countdown clock to WrestleMania 32 and F4W MANIA~! 
Click here for the complete run down. Bus seats are still available for the WrestleMania bus ride, but dinner is now sold out.
Please join and like the Facebook Event page to stay up to date with the most current details.
---
If you've ever wanted to WATCH our radio shows here on the site, check out our new Youtube page! No full video shows, but lots of video clips, full free audio shows that you can tell your friends about, and much more to come! Make sure you subscribe today!  
---
Figure Four Weekly 3/21/2016: Hulk Hogan awarded $115 million (sort of) by jury
Hulk Hogan is awarded $115 million by jury over the Gawker sex tape lawsuit. Will he collect?
---
Wrestling Observer Newsletter
READ IT HERE: March 28, 2016 Wrestling Observer Newsletter: Hogan wins Gawker lawsuit, MMA legalized in NY, Wrestlemania weekend preview, more  
Well before the Hulk Hogan vs. Gawker Media trial began, it was not a secret that Gawker believed they would lose the case before a jury, but believed they would win it on appeal.
But in a trial that got worldwide attention, as much for the questions of what constitutes legitimate news versus invasion of privacy, as the fact Hogan was involved, Gawker never saw what was coming.
A St. Petersburg jury of six people awarded Hogan $140.1 million, even more than the $100 million he was asking for, with one juror making it clear the figure was because they wanted to send a message to the company.
Current subscribers click here to continue reading.
PLUS MUCH MORE! CLICK HERE FOR A FULL WRESTLING OBSERVER PREVIEW
---
You can also order the print Observer right now and get it delivered to your door via mail, by sending your name, address, Visa or Master Card number and an expiration date to Dave Meltzer
You can also order print issues at www.paypal.com directing funds to dave@wrestlingobserver.com.
 
Rates are:
 
For the United States, it is $13 for 4 issues, $32 for 12, $61 for 24, $101 for 40 and $131 for 52. In Canada and Mexico, rates are $14.50 for 4, $35 for 12, $67 for 24, $111 for 40 and $144 or 52.  In Europe, you can get the fastest delivery and best rates by sending to moonsault@mediaplusint.com  For the rest of the world, rates are $16.50 for 4, $44 for 12, $85 for 24, $141 for 40 issues and $183 for 52.
 
If you order by mail with a check, cash or money order (P.O. Box 1228, Campbell, CA 95009-1228), you can get $1 off in every price range.
If you are a new subscriber ordering 24 or more issues, you can get one free classic issue of your choice sent to you today.  With a 40 issue subscription, you can get two free classic issues sent to you today. 
 
Click here for the most requested Wrestling Observer back issues.
If you wanted to know just how big Giant Baba was to people who grew up in the 60s and 70s, the latest back issue will explain.
Check out the latest Online Wrestling Observer BACK ISSUE: February 15, 1999 Wrestling Observer Newsletter: Reaction to the death of Giant Baba, 2 wrestlers have heart scares, plus tons more  A look at the surprising public reaction to the death of Giant Baba, 2 wrestlers have heart attack scares, plus tons of news and notes.
FRIDAY NEWS UPDATE
Brie Bella will most likely be retiring shortly after WrestleMania 32, partly because of the injuries sustained by her husband Bryan Danielson, also known as WWE's Daniel Bryan. At this point, her last appearance will be on the Raw after WrestleMania. Brie and Nikki will both remain part of the reality show Total Divas, as season six is set to begin filming soon. No word on the status of Nikki Bella who is still recovering from neck surgery with her boyfriend John Cena who is also still recovering from a surgery of his own.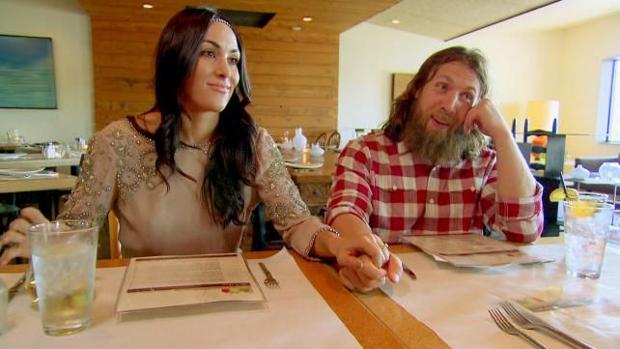 WWE & Professional Wrestling
In case you missed it, there will be two pre-show matches at WrestleMania.
The Andre the Giant Battle Royal will take place as already announced as part of a USA Network and WWE Network simulcast starting at 6 PM EST. On Smackdown, it was announced that the Dudleys vs. Usos would also air on the pregame show but since the WWE Network pregame show starts at 5 PM EST, it isn't clear whether the Dudleys match will or won't air on USA.
There's an article at Death and Taxes by our own David Bixenspan about how two intoxicated sailors tried blowing up Hulk Hogan's car just days before Bubba Clem recorded the sex tape of Hogan and Heather Cole.
WWE Money In The Bank is heading to Las Vegas Sunday, June 19th per the T-Mobile Arena schedule.
The Dudley Boyz will induct Jacqueline into the WWE Hall of Fame this year.
Kevin Owens continues his pre-WrestleMania media tour, this time on the Chad Dukes show.
The jurors in the Hulk Hogan/Gawker trial are starting to make their media rounds this week.
Jim Ross was on the PWI Podcast talking about Shane McMahon's upcoming WrestleMania match, what he'd say to talent who are complaining about it, and more.
Former WWE talent Renee Dupree was on a podcast this week.
WXW's latest TV show on YouTube features a tag match from the 16 Carat weekend with Cerberus vs. David Starr and Shane Strickland.
The Young Bucks talked with Sports Illustrated about WWE, superkicking Vince McMahon, and the formation of the The Elite with Kenny Omega.
Ric Flair and WWE Divas Champion Charlotte were on Boomer & Carton's radio/TV show Friday morning.
Speaking of "The Nature Boy," he told TMZ that NBA star Lebron James said he was "the inventor of swag".
UFC & Mixed Martial Arts
UFC announced Thursday that they will be bringing back "Fight for the Troops" later this year for the first time since 2013. This will be the fourth such show for UFC, after doing the same in 2006, 2011, and 2013. No date or location has been announced as of yet.
BRACE 38 runs tonight on UFC Fight Pass at 11 pm eastern. This will be the second show on the streaming service for the Australian promotion and is headlined by Women's flyweight fight between Hera Tamata (5-3) and Jade Thomson, making her pro debut. The show features almost exclusively Australian fighters.
Legacy FC 52 is tonight's AXS TV MMA show with a flyweight title fight between Matt Schnell (9-2) and Klayton Mai (8-1) as the headliner. Former UFC fighter Sean Soriano (9-3) is also on the show taking on Thomas Webb (9-3) in a featherweight fight.
Could you even imagine the NY Post's Phil Muschnick hating MMA? You could? We get it. Hey Phil, life ain't so bad. Smile!
Today in professional wrestling history: AWA CHAMPION AND WWWF CHAMPION WRESTLE TO A DOUBLE COUNT OUT
Please send feedback to feedback@wrestlingobserver.com