Ring of Honor Aug 15 TV results and recap: Young Bucks vs Roppongi Vice
By F4W Staff | @WONF4W | Aug 16, 2015 10:54 pm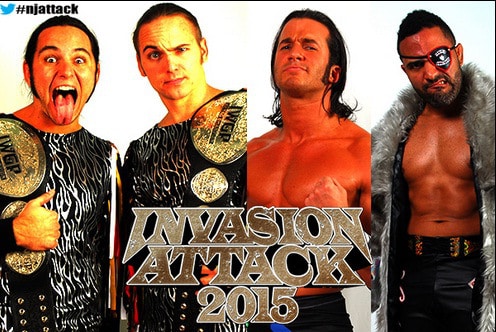 By Paul Fontaine, for WrestlingObserver.com
The Big Takeaway – A great main event, followed by a strong post-match angle setting up a future match between two of the top tag teams in the world.
Nigel McGuiness joins Kevin Kelly on commentary as Steve Corino is on paid leave due to the altercation with BJ Whitmer on last week's show.
Silas Young vs Dalton Castle w/his boys
Highlights from Death before Dishonor and the altercation between Young and the boys air prior to the match. Castle cuts a promo to the camera on Silas Young during his walk to the ring, vowing to show Young who the "real man" is. Castle is showered with streamers at the end of the entrance.
Castle attacks Young before the bell. Quickly turns into a grappling match on the mat, as the fans chant DAL-TON CAS-TLE and then FAN UP as the boys fan the ring. Castle picks up Young with a dead-lift german suplex in an impressive spot. Young rolls out of the ring and the boys fan him. Young is not pleased at that and dresses them down but Castle attacks him and rolls him back into the ring.
In the ring, Young takes over and then throws Castle out of the ring and beats on him as we go to break. After the break, they're back in the ring with Young still in control. Castle tries for another dead lift suplex but it's blocked by Young. He then tries a running knee into the corner but Young ducks and Castle goes flying over the top, only to be fanned by his boys outside.
Back in the ring and it's a chop-fest, won by Young. Castle recovers and hits a Thesz press, the momentum of which takes them both outside the ring. Castle hits a Rana off the ring apron and then tosses him back into the ring. Fans again chanting for Castle. Castle hits two flying knees and then a whirly-bird for a two count. Young DDT's Castle into the bottom turnbuckle but only gets a two.
Young hits the Killer Combo and goes for his Misery finisher but drops Castle and goes after the boys instead. The distraction allows Castle to his the "Bang-a-rang" (? – I think that's what Kelly called it) for the win.
WINNER: DALTON CASTLE by pinfall
Young takes a mic after the match, while Castle is still on the ramp. He doesn't like what Castle does with his boys, he doesn't like his lifestyle and the boys need to learn to be men. He asks for one more shot at Castle and if he beats him, he gets the boys. He wants to teach them to be men.
Mandy Leon is up next with Inside ROH. This episode deals with the dissension in the Kingdom. Clips of the original incarnation of Future Shock are shown and this leads into Mandy talking about how Adam Cole and Kyle O'Reilly reunited recently in New York City. Of course, they defeated the current tag champs in a non-title match, which led to tension within The Kingdom. Next week, they will rematch for the titles.
Bobby Fish is at ringside for an interview with Kevin Kelly. Clips from a house show in Las Vegas where Fish pinned Christopher Daniels in an elimination match. Then he talks about his upcoming TV title shot. He doesn't think he'll be facing Jay Lethal, he thinks that Hanson will beat Lethal for the title first.
This brings out Jay Lethal and he's not happy. Lethal leaves without ca physical altercation though. They air a brief promo for the show featuring the New Japan guys next weekend, leading into the next match.
Will Ferrara vs Moose w/Stokely Hathaway
Prince Nana joins Kelly and Nigel on commentary. Crowd sings along with his entrance song as always. Nana brought Moose in and Hathaway is his protégé in case you didn't know already. They do adhere to the Code of Honor and the size differential is ridiculous, which Nigel points out.
Moose hits a dropkick on Ferrara, who's sitting on the top turnbuckle in an impressive spot. He follows him outside the ring and swings him into the ring barriers a couple times head first. He tosses him back into the ring and covers, but only gets a two. Ferrara fires away with a series of punches but Moose stops that with one shot. Moose takes his time when lifting him up for a powerslam and Ferrara hits a DDT. Moose rolls out of the ring and Ferrara follows him out but Moose catches him. Ferrara hits another DDT outside the ring, though.
Ferrara rolls him back in the ring and the fans are chanting WILL. Moose stops his little run with a superplex though. Moose follows up with a spear for the win.
WINNER: MOOSE by pinfall
After a commercial break, Adam Cole does a taped promo for next week's tag title challenge when he teams with Kyle O'Reilly against the Addiction. He says he's the best pro wrestler on the planet and it makes him sick that his teammates question his abilities and his priorities.
Main Event – Roppongi Vice (Barretta/Romero) vs The Young Bucks (Matt and Nick Jackson)
Bucks are out with the IWGP Jr Heavyweight tag team titles. They are greeted with so many streamers that the ring isn't visible. Fans chants HAPPY BIRTHDAY and then SUPER KICK. The teams do adhere to a "2 Sweet" version of the Code of Honor.
Matt starts off against Barretta and misses a superkick early. Romero tags in and does the Eddie Guerrero shimmer to no reaction. Kelly brings up that the Vice team could get a tag team title shot with a win here. Nick hits a flying DDT from the ring apron onto Barretta and then they go for the Indie-taker but Romero powers out. Nick does take out both Vice members with a Swanton off the top rope to the outside as we go to break.
Back from break with the Bucks in control, trading tags, and Romero isolated in the ring. Barretta makes the save without a tag and soon all 4 are outside the ring brawling. Back in the ring and now Matt is isolated against both Vice members. YOUNG BUCKS chants as Matt is being double-teamed. Superkick #1 comes from Nick on Barretta as Barretta is prancing on the ring apron, about to do a springboard move on Matt who's down in the ring.
Romeo tags in and hits a couple running clotheslines on Matt in the corner but Nick drops him from the ring with Superkick #2, again without a tag. Matt does make the tag and Nick is a house of fire against both Vice members. Ends up with both of them outside the ring and Matt takes them out with a suicide dive. Nick rolls Romero into the ring and then connects with a Senton for two as the THIS IS AWESOME chant starts up.
The Bucks miss a double superkick on Romero and he gets a brief flurry of offence but Bucks back in control after a unique version of Slide Bread, followed by a penalty kick. Matt covers but Barretta breaks up the count as we go to break.
Back from break and the Bucks are both stopped by Barretta on different moves and then he hits a twisting DDT on Matt. Romero picks him up and hits a reverse back-cracker and then Barretta hits a double-flying foot stomp from the top onto Matt. That only gets a two though.
Matt makes the hit tag to Nick, who hits an Enziguri but Romero follows up with a jumping knee. Soon all four guys are in hitting a bunch of moves and just like that they're all down. Another THIS IS AWESOME chant.
Romero hits a dropkick onto Nick, who's draped over the ropes and then Barretta follows up with a Shining Wizard but only gets a two. Vice go for a double suplex but Nick powers out. Matt pulls Romero out of the ring and hits Superkick #3 on him. In the ring, Barretta sets up for a powerbomb on Nick but Nick reverses into a Destroyer.
Matt tags in and hits a buckle bomb on Romero, following up with a cannonball. Romero draped across the bottom rope and Nick hits a 450 splash onto him and Matt covers but only gets a two. Matt sets up Romero on the top rope but Barretta charges and sets up for a superplex. Matt rolls through and hits Superkick #4 on Barretta. Romero leaps from the top but gets by Superkicks #5 and $6 from both Bucks. More Bang for Your Buck finishes it, as Matt gets the pin on Romero.
WINNERS: THE YOUNG BUCKS by pinfall
KRD attacks the Bucks after the match. The hit Celebrity Rehab on Matt and then tape him to the ring ropes. Nick gets a brief hope spot but quickly gets doubleteamed by the tag champs. Daniels then mocks the Bucks by hitting a Superkick on Nick, screaming out Superkick Party before doing it. Kazarian, followed by Kazarian and Daniels and then finally Sabin all hit Superkicks on Matt and then further mock them by doing the 2 sweet hand gesture. Then they hit the Indie-Taker on Nick and again do the 2 sweet stuff. This finally brings out Nigel and officials to try and stops things as the show ends.