UFC 189 Preview: 5 storylines to watch, betting odds & predictions
By F4W Staff | @WONF4W | Jul 9, 2015 12:00 am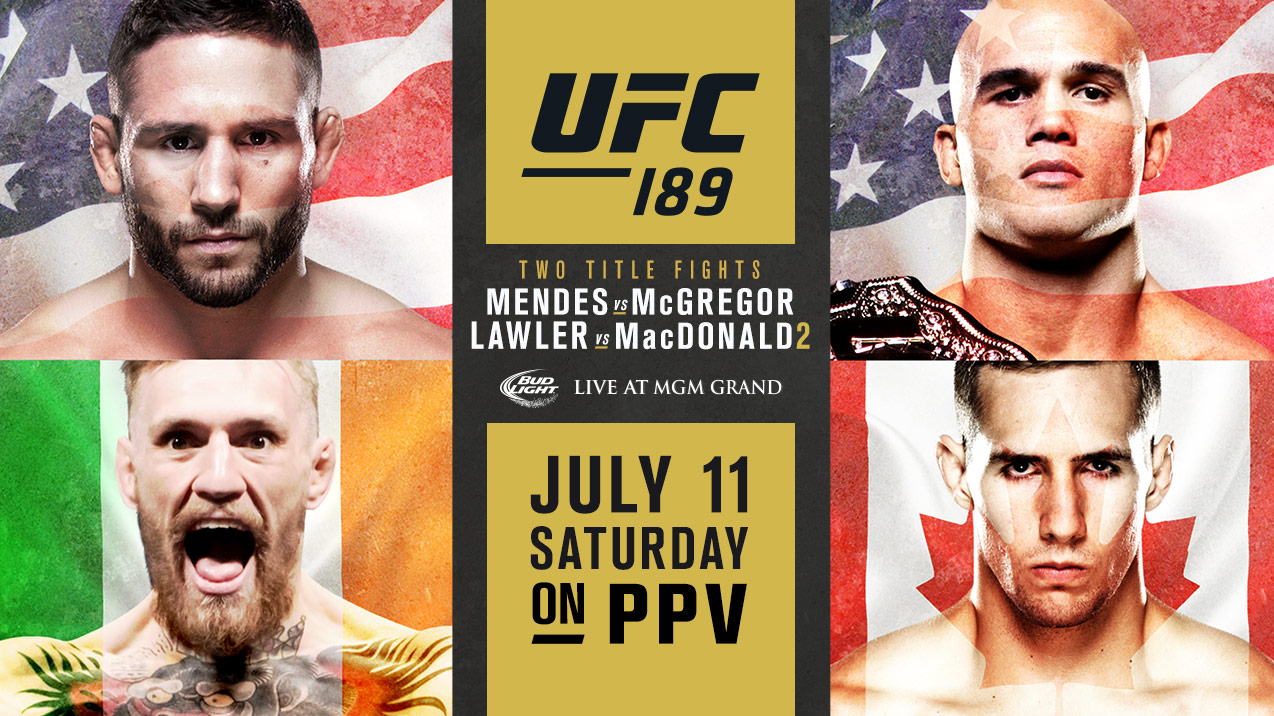 International Fight Week is upon us this week, bringing two events to the MGM Grand Garden Arena in Las Vegas this weekend after a week full of fun activities for fight fans, including a fight card put on by Invicta Fight Championships, pool parties, charity bowling, a free concert by the Dropkick Murphys, and the annual UFC Fan Expo. The big UFC event of the weekend is the first one they produce, which is UFC 189 on Saturday night, headlined by Irish sensation Conor McGregor looking to become a champion, albiet an interim champion, when he meets Chad Mendes for the Interim UFC Featherweight Championship after Jose Aldo was forced out due to a broken rib.
In the night's co-main event, UFC Welterweight Champion Robbie Lawler makes his first title defense against a man he holds a win over, Canadian Rory MacDonald, who fights for the title for the first time in his career. The event has become the highest-grossing UFC event in the United States, with an over $7 million gate in Las Vegas and various closed-circuit locations throughout the city, and while the loss of Aldo took some of the bigger buzz out of the event, there is still lots of buzz there and big expectations on pay-per-view. Let's dive deeper into the action on the card and look at five storylines to keep an eye on for UFC 189.
1. UFC 189 is The Conor McGregor Show. Will he walk away victorious over Chad Mendes?
UFC 189 has become The Conor McGregor Show and this event rests solely on his shoulders. There is a $7 million gate. There are big expectations for solid pay-per-view numbers, though that has taken a hit with the removal of Jose Aldo from the main event. He has the country of Ireland coming over to support him, and this is the chance to truly establish himself as one of the top draws in the company. The biggest question is whether he can come out on top in the end against a tough opponent in Chad Mendes.
Mendes brings a different fight to McGregor than Aldo would have. Aldo is more dangerous and technical on his feet. Mendes is arguably the best wrestler in the featherweight division, and that is the biggest area that McGregor has yet to be tested in. McGregor was taken down briefly by Dennis Siver but was able to pop right back up and finish him in the second round. McGregor has passed every test that has been put in front of him, and he has been finishing opponents. The only UFC opponent he has yet to finish was Max Holloway, yet McGregor beat him with the takedown game and a torn ACL. By the way, Holloway hasn't lost in the Octagon since losing to McGregor.
How will this fight play out? Mendes is coming into a five-round fight on 17 days' notice, though he didn't officially get the fight until 12 days before the Saturday event. He always trains hard and he does have a good gas tank, but going 25 minutes with that short of notice is a lot to ask for, though his last two fights have all been scheduled for five rounds. McGregor has ben training for months for a five-round title fight, and he will be in excellent shape. Both are going to be drained from big weight cuts, and that will play a factor in the later rounds. McGregor having more preparation time will make the difference there. I think this fight is a lot closer than people realize and I give the edge to McGregor due to just being more ready for a fight on July 11.
2. Who wins in the rematch between Robbie Lawler and Rory MacDonald?

Robbie Lawler and Rory MacDonald meet for the second time in the co-main event of UFC 189. They fought at UFC 167 in November 2013, a bout won by Lawler by split decision. It came down to the final round, and Lawler was able to knock MacDonald down, and that made the difference. It led to Lawler fighting for the UFC Welterweight Championship, and while he came up short the first time, Lawler made his way back and captured the UFC Welterweight Championship at UFC 181 in December, capping off an incredible story of comeback and redemption. He makes his first title defense against MacDonald, who comes in riding a three-fight win streak since the loss to Lawler.
The title being on the line could play the big difference. MacDonald has recently claimed that he was injured and wasn't mentally focused going into the first bout with Lawler. How much of that is the truth and how much of that isn't and is just a tactic to dismiss the outcome of the first time is a question that MacDonald will need to answer. MacDonald looked fantastic in his win over Tarec Saffiedine in October. Lawler has looked fantastic in his three recent wins, with a dominant finish of Jake Ellenberger, a dominant 25-minute win over Matt Brown, and a close fight with former champion Johny Hendricks, but Lawler made it count late when it mattered, coming on strong in the closing rounds to earn the championship that was put around his waist.
This fight could play out like the first one, and that is reminiscent of Lawler's triumph over Hendricks in December. It was close early on, but Lawler came on strong in the end to win the fight. MacDonald needs to be mentally ready for a 25-minute battle. He has been working hard to get the championship bout, and this is his first crack at it. Will he be mentally strong enough? His prior two opportunities to really break out resulted in losses- to Lawler and Carlos Condit. This is a different chance to break out- he has a championship he can win. Lawler has been around the block and his comeback has been one of the best stories in the history of the sport. MacDonald wants to end it, and I give him the oh so slight edge in the rematch.
3. This card has two fantastic bantamweight prospects in Thomas Almeida and Cody Garbrandt. What can we expect from them?
Thomas Almeida is already being hyped as the future of the bantamweight division by UFC President Dana White, and for good reason. He comes into UFC 189 on Saturday night undefeated in 19 professional fights, and 18 of those wins have come by stoppage. He has 14 wins by knockout and four by submission. To top it all off, he is just 23-years-old and has only been competing for just over four years. He has future star and title challenger written all over him after his trashing of Yves Jabouin at UFC 189 in April. He gets a quick turnaround and a tough veteran in Brad Pickett on Saturday night. Pickett returns to 135 pounds but has lost two straight fights. Pickett will bring the fight to Almeida and it is the opportunity for Almeida to break into the crowded prospect picture at 135 pounds.
Cody Garbrandt, like Almeida, enters UFC 189 on Saturday night with an undefeated record. Garbrandt has only six professional fights in his career, but all six wins have come by knockout. He is young as well at just 24-years-old, and he comes from some tough camps, splitting camp time between Ohio training alongside the likes of Stipe Miocic and Jessica Eye, and also training in California at Team Alpha Male with a who's who of fighters. Garbrandt had an impressive UFC debut in scoring a third-round knockout win over Marcus Brimage, and he has the chance to keep his star rising when he meets Henry Briones on Saturday night. Briones has 21 fights in his career and a decent recent win streak, but is the type of match-up designed to get Garbrandt what should be a solid showcase victory.
4. Matt Brown and Tim Means square off in the featured prelim. Will they score fight of the night?
Headlining the slate of preliminary action is a welterweight bout that could produce a heavy dose of post-July 4 fireworks when Matt Brown meets Tim Means. Brown is looking to put an end to a two-fight losing skid that took him away from title contention, though those two losses came to Robbie Lawler, the current champion at 170 pounds, and Johny Hendricks, the former champion at 170 pounds. Brown has produced some of the most exciting moments in recent welterweight history, and has come back from nearly being cut following a stretch where he lost four of five fights to become a top-five ranked fighter.
Means was a fighter that was actually cut following two losses and issues making weight. He came back to the UFC on short notice and up a weight class, and while he lost his return to Neil Magny, he has since won four straight fights to get himself in a position to join the UFC rankings should he score the upset over Brown. His last two wins have been finishes, but he hasn't fought the level of competition that Brown will bring. Means stepped in to replace Nate Diaz in this fight, and he has the chance to prove himself here against a contender. Both men throw hard punches and like to brawl, and this fight is capable of producing the fight of the night.
5. What else is there to look out for on the UFC 189 card? 
UFC 189 is one of the more solid top-to-bottom cards of the year capped off with the two title fights. In other main card action, featherweights Dennis Bermudez and Jeremy Stephens will square off. Bermudez hasn't fought since UFC 180 in November where he suffered a first-round submission loss to Ricardo Lamas that ended his seven-fight win streak and knocked him out of title shot contention. Stephens enters Saturday night looking to put an end to a two-fight losing skid and get himself back into the top ten of the rankings.
Three other welterweight bouts highlight the card, which showcases ten welterweights overall. Gunnar Nelson and Brandon Thatch will meet on the main card as both men look to rebound from their first defeats inside the Octagon. Cathal Pendred comes in on short notice looking to extend his eight-fight win streak against John Howard, who is looking to end a three-fight losing skid. Also, Mike Swick, a member of the original cast of The Ultimate Fighter, returns after being out of action since December 2012 when he meets Alex Garcia, who is looking to rebound from a loss that ended a six-fight win streak.
Full UFC 189 Fight Card, Betting Odds and Predictions
MAIN CARD (PPV- 10 PM ET/7 PM PT)
Interim UFC Featherweight Championship: Chad Mendes vs. Conor McGregor
Betting Odds: Mendes (+150), McGregor (-170)
Prediction: McGregor by knockout in round 3
UFC Welterweight Championship: Robbie Lawler(c) vs. Rory MacDonald
Betting Odds: Lawler (+158), MacDonald (-180)
Prediction: MacDonald by decision
Featherweights: Dennis Bermudez vs. Jeremy Stephens
Betting Odds: Bermudez (-210), Stephens (+175)
Prediction: Bermudez by decision
Welterweights: Gunnar Nelson vs. Brandon Thatch
Betting Odds: Nelson (+158), Thatch (-180)
Prediction: Thatch by knockout in round 2
Bantamweights: Brad Pickett vs. Thomas Almeida
Betting Odds: Pickett (+625), Almeida (-950)
Prediction: Almeida by submission in round 1
PRELIMINARY CARD (FOX SPORTS 1- 8 PM ET/5 PM PT)
Welterweights: Matt Brown vs. Tim Means
Betting Odds: Brown (-190), Means (+165)
Prediction: Brown by knockout in round 2
Welterweights: Mike Swick vs. Alex Garcia
Betting Odds: Swick (+325), Garcia (-400)
Prediction: Garcia by decision
Welterweights: Cathal Pendred vs. John Howard
Betting Odds: Pendred (-110), Howard (-110)
Prediction: Pendred by decision
Bantamweights: Cody Garbrandt vs. Henry Briones
Betting Odds: Garbrandt (-600), Briones (+450)
Prediction: Garbrandt by knockout in round 2
PRELIMINARY CARD (UFC FIGHT PASS- 7 PM ET/4 PM PT)
Flyweights: Neil Seery vs. Louis Smolka
Betting Odds: Seery (-105), Smolka (-115)
Prediction: Smolka by decision
Lightweights: Yosdenis Cedeno vs. Cody Pfister
Betting Odds: Cedeno (-200), Pfister (+170)
Prediction: Cedeno by decision