UFC: "The Notorious" Conor McGregor Ep. 5 Review
By F4W Staff | @WONF4W | May 1, 2015 4:34 am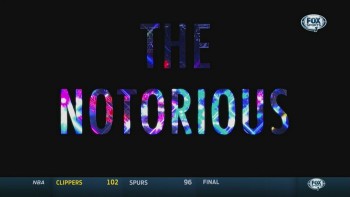 By Jeremy Peeples, WrestlingObserver.com
The show begins with Conor stretching and saying that he works the brain more than the body because the body declines. A fight is a blank canvas where instinct takes over. Conor has just learned he'll face Dennis Siver and says that he's learned how to free his body 24/7. He talks about how most people have a routine when they wake up that locks their bodies up, while he starts the day stretching and working out to loosen his up. He goes to work the kick pads and says he wants to hit a big shot and then pause to let it sink in to his opponent.
In Dublin, Conor's fans have been waiting in line overnight. He's blown away by the thought of it, and it makes for an impressive visual. He goes to HMV for a DVD signing and lets a kid put him in a front facelock before complimenting a fan on his jacket. He works out in a gym with an MMA glove as the star on the Christmas tree. Conor says he gets banged up a bit in full training, so he likes going for a middle ground that's a bit lower-impact and results in everyone being looser and getting into more odd positions.
After another training session, he gets a stretch in with his girlfriend. During a night out, fans get some selfies before an interview and says he loved the vibe out there. Conor's asked about his Christmas dinner and he says it was nothing but Brussels sprouts, but after the fight, he'll feast on a German lamb. That was a cute little line.
In Las Vegas, he buries Siver for using steroids and calls him a little gremlin. He plans to take his head off in Boston, or as he calls it, Ireland 2. In Boston, he loves seeing his poster on the side of bus stops. He says Siver doesn't deserve any credit and should be cut for ever using steroids. He goes to sign a deal with Reebok. Conor gets a grab bag with whatever he wants, so he and his girlfriend go on a free shopping spree. She actually goes through the store after closing with flashlights to grab more stuff - awesome. I can't say as I blame her - if you get a chance to get whatever you want, you take advantage of it. To do any less would be insulting their generous offer. Conor makes wacky faces for a photoshoot.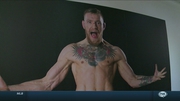 At Peter Welchy's Gym, he gets a bagpipe introduction for a Let's Stop Cancer Foundation Q&A and photoshoot. He's amazed to see so many people being so proud of their Irish heritage. A schoolyard friend of Conor's comes in and talks about their history before Conor works out. Paddy Holohan makes wacky faces for a presser at the TD Garden, who says he fights for his kid.
A ton of fans sing the "Ole!" song while Dennis Siver does an interview and is completely drowned out. Siver and Conor goes for a press staredown and we get more footage of Conor working out. Conor says he's better now than he was two weeks ago and he'll whoop ass and collect checks. 2015 is his year and anyone who doesn't like it will be forced to accept it. This was a more subdued show, but still a lot of fun. Everything involving the Reebok shoot was hilarious.
For a look at every screenshot taken for the show, click here.