NXT TakeOver live results: Bobby Roode vs. Nakamura; Asuka vs. Ember Moon
By Arya Witner | @TheReallyRealAW | Apr 1, 2017 9:17 pm
Preview by Josh Nason
Saturday kicks off four straight nights of WWE-branded action in Orlando, FL, as NXT returns to WWE Network with their latest TakeOver event from the Amway Center.
While last year's event was notable for a big debut, this year might be best be known for a big departure -- both featuring the same person.
Exactly one year ago, Shinsuke Nakamura made his promotional debut, taking on Sami Zayn in one of the company's most memorable matches and entrances. As we sit here today, Nakamura is looking to regain his NXT title in a rematch against champion Bobby Roode although most expect Nakamura to be headed to the main roster at some point soon. 
Also one year ago, Asuka began her historic run as NXT Women's Champion by taking the title from the departing Bayley. Now the longest reigning champion in the division's history, she defends against Ember Moon, a talent best known for the tremendous Eclipse finisher. Will Asuka's reign of terror continue or will a new women's star be created tonight?
Plus, we'll see a tag team title three-way elimination match between champions The Authors of Pain, DIY, and The Revival, the in-ring debut of Aleister Black as he faces Andrade Almas, and Tye Dillinger, Roderick Strong, No Way Jose & Ruby Riot vs. SAnitY (Eric Young, Alexander Wolfe, Killian Dain & Nikki Cross).
Check out Mike DellaCamera's preview and join us for live coverage starting at 8 p.m. ET.
**********
-No Way Jose was attacked by SAnitY during Axxess and will not be part of the 8-person Tag Team Match. Tye Dillinger, Roderick Strong and Ruby Riot have the choice of either finding a partner or doing a 4-on-3 Handicap Match.
**********
-The show started with Triple H's voice in a darkened arena welcoming us to NXT, saying we are home. The video package for the show was more about how NXT evolved over the years.
**********
SAnitY defeated Tye Dillinger, Roderick Strong, Kassius Ohno & Ruby Riot
SAnitY won when Dain pinned Dillinger with One Winged Angel, which was called The Ulster Plantation.
Kassius Ohno replaces No Way Jose, as mentioned earlier. Ohno traded in a "Dream Team" jersey for one based off the Sacramento Kings logo.
The fans were really into this match, which was built around the on-going feud between Dillinger and Eric Young. Ruby broke out a cool move early when Nikki Cross caught her in the corner on an Up and Under, but Ruby used her knees to drive Cross face-first into the turnbuckle.
SAnitY got the heat on Roderick Strong. Killian Dain inspired "Shave Your Back" chants, so he replied by hitting a running dropkick to Strong. Before that Strong went crazy, hitting back breakers on everyone. Dillinger got the hot tag and pretty much beat up the male members of SAnitY by himself. Things got out of control, including a giant dive sequence, which ended with Killian Dain ramming Ohno into the ring apron.
Dillinger had Dain pinned before the finish, but Alexander Wolfe broke it up. Ohno gave Wolfe the Rolling Elbow, but Young laid out Ohno with a neck breaker and Strong gave Young the Sick Kick. Ruby Riot and Nikki Cross were trying to take down male members of each team and it ended with Ruby diving onto Cross outside the ring with a flying dropkick.
**********
Edge and Beth Phoenix were shown sitting ringside.
**********
Aleister Black pinned Andrade "Cien" Almas
Black had a platform for his entrance, which turned him from horizontal laying down to completely vertical.
Black won an excellent bout with a spinkick to the head called the Black Mass.
There weren't a lot of connected moves early, as both men knew what the other man was going to do before they did it and avoided contact. Almas did his cocky lay down in the ropes and then he moved out of the way when Black went for a dive. However Black, in one fluid motion, flipped backwards off the ropes to avoid crashing out of the ring
Black hit a tremendous moonsault outside of the ring, similar to Kota Ibushi's, but Black landed on the apron on the corner jump before doing the moonsault. Almas worked on Black's arms, including using a Fujiwara armbar and Black had to somehow fight to the ropes despite not having use of his arms. Almas got a number of really close near falls where Black kicked out at the last possible second. Black used a lot of knees and kicks throughout the match and lifted Almas up with his foot at the finish.
Nigel McGuinness accidentally said "the future is bright for Ring of Honor". After an awkward pause he continued like nothing happened.
**********
Authors of Pain defeated The Revival and DIY in a 3-way elimination match to retain the NXT Tag Team Championship
Authors of Pain pinned both teams. First pinning DIY with The Last Chapter and then The Revival with a Super Collider.
William Regal was in the ring before the match started to present to the referee the new championship belts. They look similar to the old belts, with a different color design.
First Fall: The story of the first fall was The Revival and DIY kept trying to work together, but their hatred of each other caused it to constantly fall apart and eventually was both teams downfall.
DIY immediately set up a table to the delight of the fans, but it didn't pay off at the start. Revival and DIY laid out AOP outside the ring and then turned on each other before eliminating the champs. Revival was content to let DIY take a beating from Authors of Pain early and refused to tag it. This came back to bite them in the butt later when DIY refused to tag in and let Dash Wilder take a beating. The match was supposed to be under traditional tag team rules, but was constantly breaking down into chaos. At one point AOP caught Johnny Gargano and when Ciampa went for his Suicide Dive, they threw Gargano into him.
AOP continued the beatdown of Gargano, who made the hot tag to Ciampa. The fans chanted "psycho killer" as Ciampa hit an impressive snap German suplex on Akam. Ciampa almost pinned Akam with a running knee. DIY and The Revival teamed up to power bomb Rezar through the long forgotten table. The referee was waving it off like it would be a DQ, but nothing was called.
All four challengers were left with Akam, who beat down all four men by himself. These guys are heels, just remember. Finally Dawson locked on the reverse Figure Four and Gargano put him in a crossface. Akam almost tapped out, but Rezar appeared from the rubble and drove Ciampa and Wilder into the pile, breaking it up.
In between fighting each other, the challengers continued to team up and crossed up their finishers as Gargano and Dawson hit DIY's finish on Rezar and Ciampa & Wilder hit the Shatter Machine on Akam. Again, AOP rolled outside, but we got the giant dive sequence, finishing with Dawson giving Gargano a superplex onto the pile outside the ring!
After all that Akam and Rezar got in and pinned Ciampa with The Last Chapter, which caused the fans to erupt in very loud booing and chants of "bullshit".
Second Fall: The fans began chanting "DELETE" apparently unaware the Hardys are wrestling elsewhere tonight. Revival almost got the pin a couple different times. They ended up almost the Diesel-Bret Hart finish, where Akam went for a power bomb, but Dawson collapsed and then hit a small package, but Akam kicked out. They went right to the finish with the Super Collider from here.
The cameras were missing a lot of shots in this match, but it was still an excellent and hot match.
**********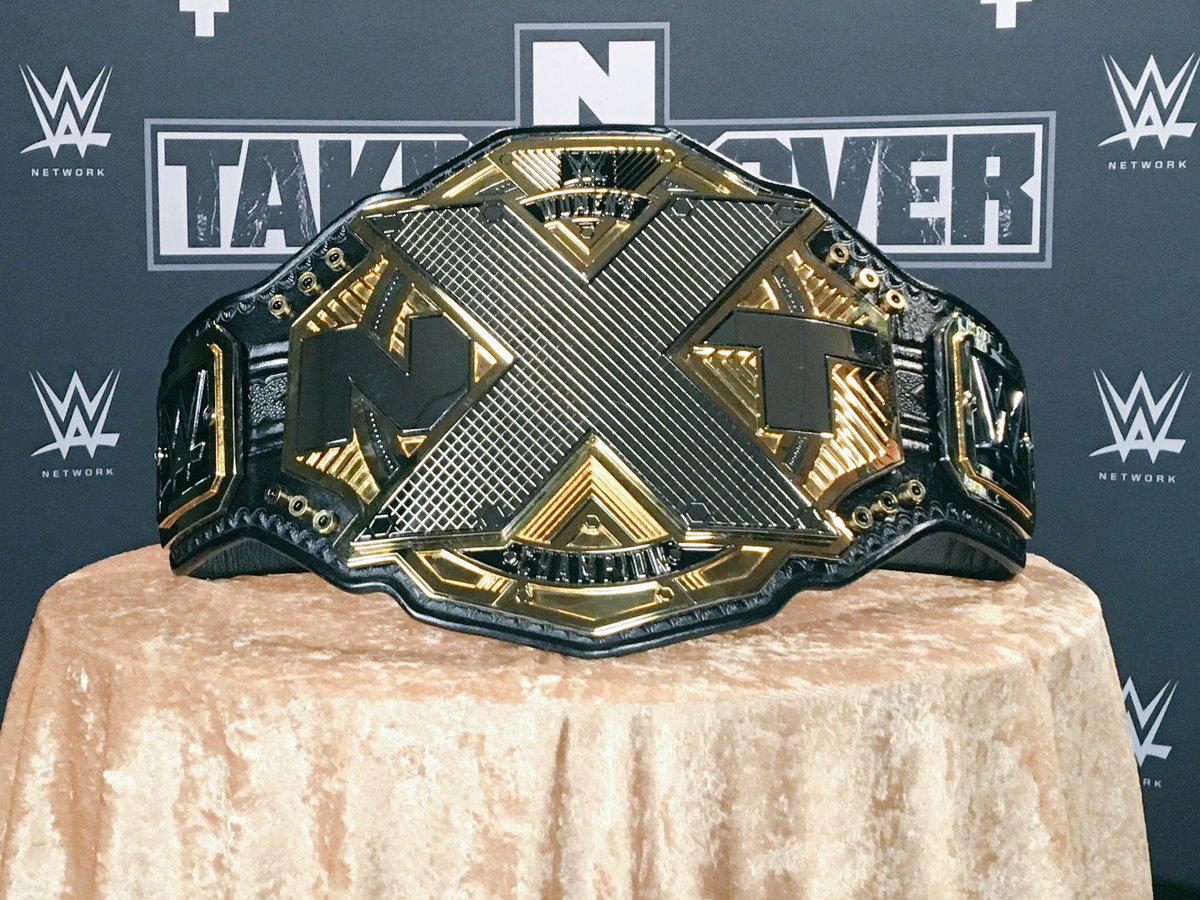 Asuka pinned Ember Moon to retain the NXT Women's Championship
The 18 month undefeated streak and year long title reign continues as Asuka pinned Ember Moon with a kick to the head. At the end of the match Ember had Asuka down and was setting up for the Eclipse. However Asuka shoved the referee into the ropes, Ember crotches herself on the top rope and fell to Asuka's head kick.
In case anyone is curious, they have retroactively shortened Ascension's year long tag team title reign. They now start it from the air date, as opposed to before when they started counting the days from the actual date. That is why Asuka's 364 day title reign is considered the longest, even though Ascension also held their belts 364 days. The new Women's Title has a giant X on it, making it look (in a way) like the original TNA X-Division Title.
A lot of dueling chants of "Let's Go Asuka/Ember Moon". Ember was portrayed as a true equal of Asuka and seemed to have the early advantage, until Ember teased Asuka, which brought on the angry version of the champion. Asuka took over with a running hip attack while Ember was on the apron, causing Moon to fly and crash into the guardrails. Ember came back and hit Christian's springboard dive over the top rope to the floor.
Asuka went for the Asuka Lock three times early. Ember went for The Eclipse, but Asuka used that to take over. Asuka got the Asuka Lock on completely, but it didn't have a lot of heat since it was early in the match. Ember hit a series of hard hitting moves, which woke Asuka up. The fans were into this match and I think a lot of people were surprised that Asuka retained. Ember never hit The Eclipse and Asuka needed to cheat, for the first time ever, to win.
**********
Former WWE Intercontinental and TNA World Heavyweight Champion Drew McIntyre/Galloway was shown sitting ringside.
**********
Bobby Roode pinned Shinsuke Nakamura to retain the NXT Championship
Roode retained in a match that started slow but built to an excellent main event. The finish saw Nakamura's third attempt at a Kinshasa, but Roode used a chop block and a Tornado Glorious DDT for the win.
Nakamura got a huge light and smoke show, while Roode had pianists play his theme a Capella at first. Roode's entrance lasted an impressive 4 minutes and 10 seconds. In case anyone's eyebrows were raised, neither pianist was Reby Hardy. The new NXT Championship looks a lot like the Women's Title and I'll get a picture up as soon as I can.
Roode wanted to go after Nakamura's knee from the start, however we found out that his knee was 100% and he used it and the rest of his leg to kick Roode all over the champ's body. The match slowed down as Roode took over. The fans did the dueling chants for both men as Roode clasped on nerve holds and chinlocks.
Nakamura's offense was shockingly much more exciting, which briefly inspired Roode to up the excitement factor and hit a discus lariat to cut off the 2-time former champion. 15 minutes into the match Roode was finally able to chop block Nakamura and work on the previously injured knee. Roode slammed the knee into the ring post and got a Figure Four on inside the ring. Nakamura turned a second Figure Four into a cross armbreaker, but Roode was able to get to the ropes.
They teased a disqualification with Nakamura not listening to the referee, but nothing came of that. Roode was draped across the top rope for Nakamura's corner knee, but the champ moved and Nakamura slammed his knee into the turnbuckle. Roode used a Back Stabber for a near fall. Roode went for the Glorious DDT, but got a knee to the face and then a running knee to the side of the face.
Roode rolled out of the ring when Nakamura went for the Kinshasa. Nakamura tossed him back in, but Roode kicked the ropes as Nakamura came through them, hits the Glorious DDT...and Nakamura kicked out! As NXT Champion, Roode felt it was important to check out the ring bell, so he brought it into the ring. He dared the referee to disqualify him, so Nakamura used a head kick...but Roode turned a Kinshasa into a Arn Anderson spinebuster! That was the move that brought the fans to their feet as Nakamura kicked out and they went to the finish from there.
Roode is still champion to cap off another excellent TakeOver. Thank you all for reading and enjoy the rest of WrestleMania weekend!